Description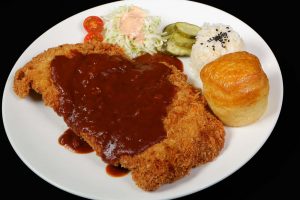 ---
For the Sauce
3 Tbsp

unsalted butter

1/3 cup

small diced onion

3 Tbsp

all purpose flour

1/2 cup

chicken stock

1/2 cup

worcestershire sauce (recommended Japanese Bulldog brand)

1/2 cup

ketchup

2 Tbsp

heavy cream or whole milk

2 Tbsp

sugar
pinch of salt and pepper
For Pork Cutlet
2

pieces of 8 oz thick cut boneless pork chops (approximately 1-inch thick)


1 tsp

salt

1 tsp

pepper

1 tsp

garlic powder

1 cup

all purpose flour

3

eggs, beaten

4 cups

panko bread crumbs, combined with 4 Tbsp water

Frying oil
For the Garnishes
cooked warm rice, black sesame seeds
shredded cabbage with pink dressing (Mix equal amount of mayo and ketchup)
pickles
dinner roll
---
Instructions
Heat a large skillet over medium low heat; add butter and let it melt. Add small diced onion and sauté until onion is soften, about 5 minutes. Add flour and sauté until roux turns into brown color, about 5 to 7 minutes. Meanwhile, combine chicken stock, worcestershire sauce, ketchup and heavy cream in a mixing bowl.

Pour sauce mixture into pan and whisk to combine. Season sauce with sugar, salt and pepper. Bring it to soft boil and simmer for 3 to 5 minutes, or until thicken. Stir occasionally. This sauce will last 7 days in a fridge. If you are serving it right away, keep it warm and let's move on the pork cutlet.

Butterfly thick pork chops and season each pork chops 1/2 tsp of salt, pepper and garlic powder, both side. Lay pork chops in between two pieces of plastic wrap if you prefer(not necessary), then pound them using a meat tenderizer or back of knife. Flatten them about 12-inch wide piece. We seasoned pork chops first before pounding, so all the seasoning will get inside of meat.

Prepare flour, beaten eggs and panko in a baking sheet.
Dust flattened pork in flour, shake off excess then dip in beaten eggs and coat evenly. Finally coat evenly with prepared panko, by pressing down panko slightly on to meat.

Heat frying oil over 350°F (Make sure your frying pan is wide/big enough for the size of pork cutlet.)
Deep fry pork cutlets 1 piece at a time 2 to 3 minutes each side, or until fully cooked inside and golden brown crispy outside. You can also pan fry or shallow fry if you prefer. In that case, cooking time might extend slightly. Remove donkasu from oil and place on a paper towel lined plate and repeat with rest pork.

Transfer donkasu to a serving plate and arrange a scoop of rice (top with black sesame seeds), shredded cabbage (top with pink dressing), some pickles and dinner roll. Pour brown sauce as much as you like, and serve immediately. Enjoy!