Description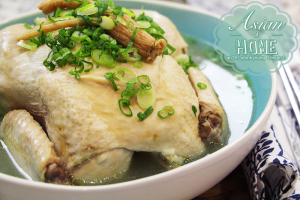 ---
10 cups

Cold water

4

Cloves garlic, 2 are smashed, 2 are whole

3

Green onions, 2 cut into halves, 1 chopped for garnish

1

Samgyetang herbal ingredient kit or

1

medium size ginseng root and 3 jujubes


2

lb. Whole young chicken or

2

cornish hens

1/3 cup

Sweet rice, rinsed and soaked in cold water for

1

hour, drained
Dipping Salt

1

Tbs. Sea salt

1 tsp

. Black pepper

1/2 tsp

. Toasted sesame seeds, smashed with fingers
---
Instructions
In a large pot, add water, 2 smashed garlic, 2 green onions that cut into halves and Samgyetang herbal ingredients. Cover, bring it to boil and reduce heat to medium low, simmer for 10 minutes.

Meanwhile, let's prepare chicken. Trim some fat on edge of chicken and wing tips with kitchen scissors.

Stuff chicken with 2 whole garlic cloves and sweet rice. It should be stuffed only 3/4 amount.
Close openings with skewers or strings.

Place stuffed chicken into simmering broth with breast side up. Cover, increase heat to high; bring it to boil and reduce heat to medium. Simmer for 1 hour or until chicken is fully cooked and tender.

Transfer to a serving bowl both chicken and soup. Garnish with chopped green onion and serve with dipping salt.

To Make Porridge with Leftover Samgyetang

Take leftover meats from chicken bones and take solid ingredients out from broth. Add 1 cup to 2 cups of cold sweet or stick rice (depending on how much soup's left..) and simmer for 30 minutes.

Constantly stirring to prevent a burnt bottom.
Transfer to a serving bowl and garnish with chopped green onion, sesame seeds and sesame oil.

Prep Time:

1 hour

Cook Time:

1 hour 30 mins