Description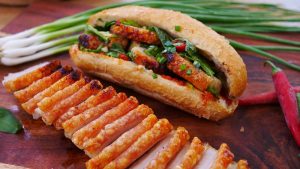 ---
For the Crispy Pork Belly
2 1/2

lb pork belly with skin on (about

1

lb per piece)

1 Tbsp

white vinegar (Can't be substitute with other vinegar)

1 1/2 tsp

salt
For the Banh Mi
2

of 6 inches long sandwich, baguette or banh mi bread

2 tsp

unsalted butter

2 tsp

mayonnaise (optional)
dashes of seasoning sauce (such as maggi or coconut aminos)

1/2 Tbsp

chili sauce (highly highly recommend my chili sauce recipe for the best result!)
handful herbs – cilantro, Vietnamese mint and/or green onions
serano and/or thai chili slices
pinch of salt, sugar & black pepper
---
Instructions
Score the pork belly's skin *only the skin* about 1/2 inch wide, 1/8 inch deep. Mix vinegar and salt together in a small mixing bowl until salt is completely dissolved. Brush the vinegar and salt mixture on top of the pork belly skin.
With no cover, let it dry in a refrigerator for at least 6 hours to 24 hours. This is the most important process for the crispy skin, if the skin is not dried, it won't bubble pop- means it will be just chewy skin, not crispy.
Preheated oven to 400f.
Place the prepared pork belly on the lowest rack of the oven and roast for 45 to 50 minutes. (depending your size of the pork) When pork belly is fully cooked, then turn the broiler to high (about 500f to 550f) and broil for 10 to 15 minutes. Check the pork belly after 10 minutes, frequently.
Cut the pork belly with the score line. You can serve the pork belly with rice and some dipping sauces of your favorite and veggie dishes to make a meal. Or make Banh Mi! (Vietnamese Sandwich)
To make Banh Mi, cut a sandwich bread in half. Spread 1 tsp butter, mayo, a bit of dashes of seasoning sauce and chili sauce. Mix the pork belly with the herb mixture, fresh chili slices, pinch of salt, sugar and black pepper. Put the pork and herb mixture in between the prepared bread. Enjoy!