Description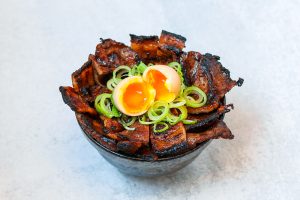 ---
For the Pork
3 tbsp

soy sauce

1 tbsp

mirin (you can substitute to water and pinch of sugar)

1 tbsp

maesilaek, Korean green plum extract (you can substitute to apple or orange juice)

1 tbsp

sugar

1/8 tsp

black pepper

1 tbsp

grated garlic (approximately

3

to

5

cloves garlic)

1 tsp

grated ginger

1

lb pork shoulder, 1/8" thin slices
For Assemble the Rice Bowl
---
Instructions
Combine soy sauce, mirin, maesilaek, sugar, black pepper, garlic and ginger in a mixing bowl or a bowl where you are marinating pork. Mix well until sugar has dissolved completely. Add the pork slices and make sure each slices are coated evenly with the marinade. Let it marinate for 20 minutes to over night.
Heat a large skillet over medium heat. Add the pork in the dry pan if you are using non-stick skillet and add some cooking oil if you're using stainless/cast iron pan.
Cook the pork 4 to 5 minutes total and keep moving around to prevent from burning. If the heat is too high, the sauce will burn before the pork is all the way cooked through. Keep moving the pork around will help the pork to cook evenly and brown up evenly.
Remove from the heat and cut into bite sizes.
Assemble the pork pieces on top of warm cooked rice, around the edge of the bowl and place chopped green onions in the middle. Place the egg right on top of the green onions if you are using one. Serve immediately! Enjoy!