Description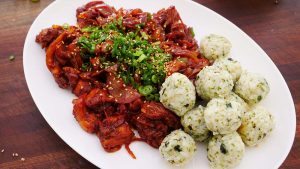 ---
Scale
Ingredients
For the Chicken
For the Rice Balls
For the Garnish
1

green onion, chopped
sesame seeds
---
Instructions
Combine chicken, garlic, ginger, mirin, soy sauce, oyster sauce, maesilaek and gochugaru in a mixing bowl and marinate for 20 minutes to over night.
Heat a large skillet or a wok over high heat and add cooking oil. Add marinated chicken in to the hot pan and stir fry about 4 to 5 minutes or until chicken is 1/2 way cooked through.
Add sliced onion and stir fry for 4 to 5 minutes or until onion is soften and chicken is fully cooked. Remove from heat and keep it warm.
Mix the rice, mayonnaise and furikake in a mixing bowl and shape the rice into 8 to 10 small balls with your hands.
Place chicken and rice balls on a serving plate and garnish the chicken with sesame seeds and green onion. Enjoy!
---