Description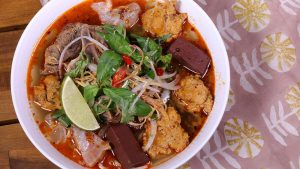 ---
For the Meat Toppings (Optional)
1

lb tenton

1

lb pork blood

1

large sliced ginger
For the Main Soup
6

lbs beefy 'neck' bones (or beefy bone-in beef shank)

2

lbs boneless beef shank (thit bo bap)

1/3

pineapple, peeled and cut into large chunks

12

stalks fresh lemongrass, trimmed off the upper halves and bruised the stalks then tie up in a bunch

1

large yellow onion, skin peeled

1

large piece fresh ginger (palm size), sliced in half length wise

4 tsp

salt

1 Tbsp

chicken bouillon

1

one-inch knob of rock-candied sugar or

2 Tbsp

sugar
For the Meatballs
1

loaf Vietnamese uncooked processed ham/sausage (gio song/cha lua song) [Store-bought, can be purchased at most Vietnamese grocery stores in the freezer section]

1 tsp

black pepper

1/4

lb ground pork

3

cloves garlic, chopped (approximately

1 tsp

)

1 Tbsp

chopped shallot

2

green onions chopped

1 tsp

red paprika powder or dry bun bo hue seasoning*

1/2 tsp

sugar

2 Tbsp

fish sauce

2 tsp

baking powder
For the Sate
4 Tbsp

cooking oil

5

cloves garlic, finely chopped (approximately

2 tsp

)

3 Tbsp

finely chopped lemongrass (frozen ones ok)

1/4 cup

shallots, sliced

1 Tbsp

fish sauce

1 Tbsp

crushed red peppers (optional)

2 Tbsp

red paprika powder or dry bun bo hue seasoning*
For the Main Soup Seasoning
For the Garnishes & Noodles
Thick rice vermicelli noodles (cook 30-45 minutes prior)
Chopped cilantro
Lime wedges
Yellow onions, thinly sliced
Banana blossom or green cabbage, thinly sliced (optional)
---
Instructions
Cooking the tendons (gan)
First step is to cook the beef tendons because this process will take about 3 hours. Boil a small pot of water and cook this separately for 3 hours until it softens. Rinse it once it's done and refrigerate for firmness, then slice into 2-inch pieces. Cover and keep it in a fridge until ready to serve. (DO NOT cook this together in your stock pot. The nasty film that releases from the tendon will not be good for your broth.)
To cook the beef/pork blood (huyet)
Carefully cut the block of pork blood into thirds if it's too big. Bring a separate pot of water covering the blood by 3-inch above. Add the 1 medium size ginger to the pot. This helps remove the smell of the blood and cook it on low heat for 45 mins to 1 hour or until cooked through. Once it's cooked, remove from heat, rinse under cold water and let it cool in a fridge. When it's cooled, cut into 2-inch cubes. Cover and keep it in a fridge until ready to serve. It's important that you cook this slow and low to prevent the honeycomb holes.
Let's prepare the main broth!
First off you want to par boil all the beef neck bones & beef shanks for about 10 minutes. Drain & wash the bones well to remove all muddy residues and wash the pot as well. This process is to remove all the dirty residues from the bones and to also maintain a very nice clean broth.
Add 28 cups cold water into now-clean-pot. Add the pineapple, onion halves, lemongrass stalks, and ginger halves, salt, chicken bouillon and rock candied sugar. Bring it to boil over high heat, once the water starts to boil, lower the heat to medium and cook on simmer for 2 1/2 hours. Continue to remove any residues that floats up the surface of the pot as you go.
Meanwhile, let's prepare the meat balls, the sate sauce & the noodles!
Combine all ingredients for meatballs in a mixing bowl and cover and keep it in a fridge until ready to use.
Heat a small sauce pan over medium heat; add cooking oil. Add the shallots and cook for 1 to 2 minutes. Add the lemongrass. Sauté for 2 to 3 minutes then turn off hea and add the garlic, red chili flakes, paprika powder and fish sauce. Continue stirring for another minute or so, until it forms a thick paste. Set aside.
Cook the rice noodles by following the directions of the package. You might have to cook longer than what the direction says though, because it's really thick noodles and takes a while. My package said 12 to 14 minutes but it took 25 minutes for me. You want to make sure it cooked all the way soft then drain, rinse under cold water to remove excess starch then drain completely with no cover. We are air-drying this noodles to absorb the flavor better, and it's Vietnamese secret!!
After 2 1/2 hours, remove all the fragrance vegetables and fruits along with the beef shank. Rinse beef shank with cold water, cover in a tight container and refrigerate for at least 30-45 minutes before slice. Remove from the fridge and slice into 1/8-inch thickness. Cover and keep it in a fridge until ready to serve.
Back to main broth, add fish sauce, bun bo hue seasoning and sate sauce. If it's not seasoned enough to your taste, then add 1 tablespoon fish sauce at a time until you reach your desire taste. If you are using shrimp paste, add at this point.
Let the broth still over medium heat and rolling boil and now, drop the meatballs into pot using a small size ice cream scoop. It will float to the surface once it's done. When the meatballs are done, we are ready to serve!
In a serving bowl, arrange cooked noodles, the meat slices then ladle over the broth with beef neck bones and meatballs. Top with a little bit of all the garnishes as you desire. Spoon in some chili oil if you like & don't forget a squeeze of fresh lime!