Description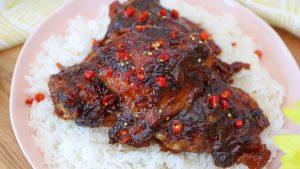 ---
For the Marinade
1 Tbsp

sugar

1 tsp

salt

1 1/2 Tbsp

fish sauce

5

green onions, white part only, finely chopped

1

to

3

red chili, finely chopped (I used Thai chilies)

5

garlic cloves, finely chopped

1 1/2 Tbsp

sesame oil

4

bone-in, skin-on chicken thighs
For Cooking
2 Tbsp

vegetable oil

1

large onion, sliced into

1

-inch thick pieces

1 1/2 cup

100% coconut water, strain any pulp

1 1/2 Tbsp

honey
Fish sauce to serve
---
Instructions
In a mixing bowl, combine all of the ingredients for the marinate and the chicken thighs. Rub the ingredients into each thigh, and then leave the marinate for 1 hour in the fridge.
In a large frying pan(around 12 to 14-inch), over a medium heat, add the vegetable oil. Scrap off the excess marinate from the chicken skin and lay the chicken, skin-side down and fry for 2 to 3 minutes, depending on size, until the skin is golden but without completely cooking the chicken. Take out and set aside to cool down. (The original recipe says sear the chicken one by one, but I just did all 4 at the same time.)
Remove any burnt bits of marinade, and add all of the chicken thighs back into the pan, skin-side facing up. Add the onion, coconut water and any excess marinade left in the bowl, then cover the pan with a lid and cook over a low heat for 25 minutes. This should cook the chicken through slowly, tenderizing the meat.
When the 25 minutes is up, take the lid off and increase the heat to high. Drizzle the honey on top of the chicken, making sure you do not at any point take your eyes off the pan.You will see caramelization take place very quickly (it took 20 minutes for me on my electronic stove) so keep turning the thighs over, allowing them to become evenly golden. You will see the liquid becomes syrupy and the chicken perfectly golden.
Not necessary, but quick blast under the broiler for 2 minutes will give a wonderful crispy skin- a bonus for sure.
Serve with fish sauce as a starter, or with jasmine rice as a main. Both are absolutely delicious.