Description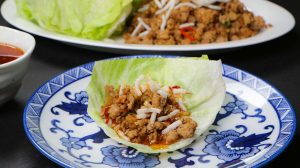 ---
For Sweet Chili Sauce
1/2 cup

sugar

1/4 cup

water

1/4 cup

white vinegar

1 Tbsp

sambal
For Chicken Stir Fry Sauce
1 Tbsp

soy sauce

1 Tbsp

oyster sauce

1 Tbsp

fish sauce

1 Tbsp

shaoxing wine (Chinese cooking wine, you can substitute to sake or dry sherry)

1/2 tsp

black pepper
For Fried Glass Noodles
For Stir Fry
2 Tbsp

cooking oil

2

to

3

cloves garlic, chopped (approximately

1 Tbsp

)

1 oz

ginger, finely chopped (approximately

1 Tbsp

)

1/2

of medium size onion, small diced (approximately

1/2 cup

)

1

lb ground chicken

8 oz

water chestnuts, chopped

1

chili, chopped

1

to

2

green onions, chopped
To Serve with
Iceberg, green, butter leaf, jam, romaine or any your favorite lettuce.
---
Instructions
Combine all ingredients for sweet chili sauce in a sauce pan, whisk and bring it to soft boil over medium high heat. When it starts boiling, reduce heat to low and simmer for 10 minutes. Remove from heat and let it completely.

Combine all ingredients for chicken stir fry sauce in a small mixing bowl, and set a side.

Heat frying oil to 350°F and fry glass noodles a couple of pieces at a time, carefully. It will curl then expend to larger size and turn into white color. It takes only 2 to 3 seconds to be done so pay attention. Place on a paper towel lined plate and set aside.

Heat a wok over hight heat; add oil, garlic, ginger and onion. Stir fry for 1 minutes or until onion's soften.

Add chicken; break up chicken with spatula or wooden spoon to small pieces. Cook chicken until fully cooked and no juices in wok, about 6 to 8 minutes. (cook it longer if needed, you need to cook until there is no more juice in wok.) Stir frequently.

Add water chestnuts and chicken stir fry sauce into wok. Toss everything together.

When chicken has absorb sauce and has golden brown edges, stir in chili and green onion.

Remove from heat and stir in sesame oil and seeds.

Transfer to a serving plate. Garnish with fried glass noodles by breaking with your hand to make it smaller pieces. Serve with your favorite lettuce and sweet chili sauce. Enjoy!