Description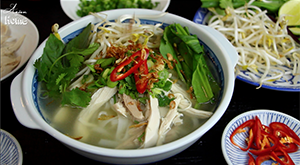 ---
Scale
Ingredients
For the Soup
1/4

of Saigon cinnamon


1

onion (approximately 10 oz / 290g)

2

thumb size ginger 9approximately 1 oz / 30g)

4

lb. whole chicken (possibly organic or free range)

12 cups

/ 3L cold water

1

Tbs. salt

1

heaping tsp. rock sugar, palm sugar, brown sugar or regular sugar (approximately

1/2 oz

.)


2

to

3

tsp. fish sauce (possibly Vietnamese high quality fish sauce, such as

3

crab brand)
For Fried Shallot
1/4 cup

cooking oil

1

shallot, very thinly sliced
To Assemble Pho Ga
fresh rice noodles or dry rice noodles

2

green onion
cilantro

1

to

2

chili, such as jalapeño, Serrano or Thai chili

1

lime
beansprouts
Thai basil
culantro (Ngo gai)
sambal (chili sauce)
---
Instructions
Toast cinnamon and star anise in a dry skillet over medium high heat to release their aroma, about 2 to 3 minutes.

In same skillet, place whole onion and ginger and roast them over hight heat until their blackened outside and oozing their juice, about 10 to 15 minutes.

Remove from heat; slice ginger into 1/4-inch thick and peel onion. Remove onion's tip and root but make sure they are holding their shape so it will be easy to remove later on.

Remove all of chicken gizzards and everything from inside of whole chicken and rinse under cold water. Place chicken in a large pot and pour 12 cups cold water, add salt, sugar, roasted onion and ginger slices. (We are not adding spices yet.)
Cover, bring it to boil. Hard boil soup for 10 to 15 minutes, and meanwhile skimming scums on surface of soup carefully without stirring soup. (Do not stir soup, it will make cloudy looking broth)
Cover, reduce heat to low and simmer for 1 hour. skimming as needed.

After simmer 1 hour, remove chicken from soup and shock in a large bowl of ice water. This process will make chicken texture more pleasure and nice.

Now, set aside cooked chicken and add toasted spices into soup along with 2 to 3 tsp. fish sauce to your taste. Simmer for additional 30 minutes, without cover.

Meanwhile, prepare chicken, fried shallot, noodles and garnishes. You can either shred chicken meat, as I did in the video or slice them.

To make fried shallot, heat a large skillet over medium heat; add oil and spread shallot into oil evenly. Cook until light golden, and you still see some white part of shallot, about 2 to 3 minutes. Remove from heat and place on a paper towel lined plate. Be careful not to turn them into brown to dark brown, their taste will be very bitter.

Cook rice noodles by following directions of package you are using. If you are using dry rice noodles, it will take 5 to 8 minutes. After cooked, it needs to rinse under warm water to get rid of extra starch. If you are using fresh rice noodles, it will take less than a minute.

Chop green onion and cilantro to sprinkle on top of soup. Slice chili if you are using any. Cut lime into wedges. Wash bean sprouts under hot water and drain. Also wash and set aside of all other herbs you are serving with, I like Thai basil, extra cilantro and culantro. In a serving plate, place bean sprouts, chili, lime and extra whole herbs to serve with pho.

By the time your soup suppose to be done. Take all solid ingredients out from soup.

Now, let's assemble Pho Ga!
In a large serving bowl, place cooked rice noodles. Place chicken pieces, chopped green onion and cilantro. Pour soup, enough to cover noodles. Sprinkle fried shallot right on top and serve with a vegetable plate and sauces.

Let your guest to assemble rest of soup by adding any vegetable of their choice and sauces. I like to dip my meat pieces into sauce, but you can also add into your soup.

---