Description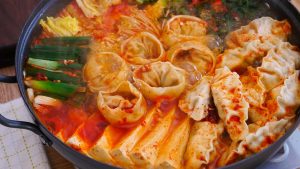 ---
For the Veggies & Mandu
a handful of beansprouts or 1/2 of onion sliced

2 cups

napa cabbage or regular cabbage, cut into bite sizes

1

zucchini or squash, cut into half-moon slices

3

Mexican green onions or

1

bundle of regular green onions, cut into half lengthwise then 2-inch long pieces

1/2

pack of enoki mushrooms or a handful of any of your favorite mushrooms

1

soft or medium-soft tofu, sliced into

1/2

-inch thick
handful crown daisy or any other green leafy veggie

1

lb fresh or frozen dumplings of your choice
For the Sauce & Stock
---
Instructions
Spread beansprouts on the bottom of the shallow large pot. Arrange the vegetables in the pot.
In a mixing bowl, combine garlic, gochugaru, yondu, soy sauce, and plum extract. Thin it out with 1 cup of vegetable stock and pour it over the pot. Pour the rest of the vegetable stock into the pot and cover with a lid.
We usually serve this jeongol (hot pot) to the dinner table and eat while it's cooking. So if you have a portable gas stove, please do so! It's so much more fun!
Bring it to boil over medium to medium-high heat and when it starts to simmer then increase heat to high and bring it to hard boil. Keep boiling for 5 minutes or until dumplings are fully cooked and vegetables are softened. It's ready to eat! Enjoy!