Description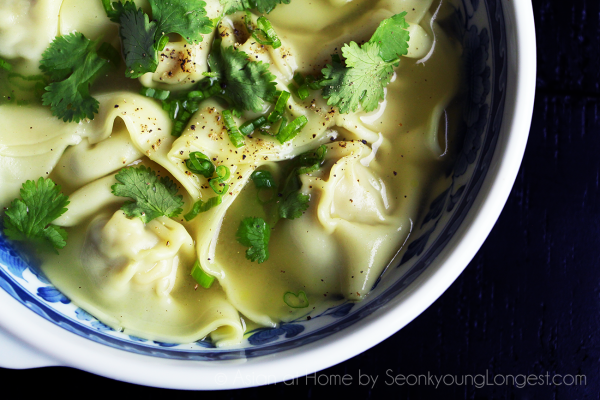 ---
For the Soup
2 1/2 cup

chicken stock

2 1/2 cup

water

1 tsp

. soy sauce

3

garlic cloves, smashed

3

to

4 1/8

-inch thin fresh ginger root slices (approximately

1 oz

.)

2

green onions, cut in halves
salt and pepper to taste
For the Wonton Filling
4 oz

. ground pork

1 tsp

. soy sauce

1 tsp

. Shaoxing wine (Chinese cooking wine, you can substitute with dry sherry)

1 tsp

. cornstarch

1/4 tsp

. sugar

1/4 tsp

. sesame oil

1/4 tsp

. ground fresh ginger root

1

small garlic clove

1

green onion, finely chopped
small pinch of black or white pepper

20

square wonton wrappers

For the Garnish
chopped green onion
Cilantro leaves
---
Instructions
In a medium/large pot, add all ingredients for the soup. Cover, bring it to boil, reduce heat to low and simmer for 10 to 15 minutes. Turn off heat and let all the flavor come together. Meanwhile, let's make wontons!

In a mixing bowl, combine all ingredients for the wonton filling and mix well with a spoon until cornstarch incorporated with other wet ingredients.

Take a wonton wrapper on your left hand(if you are right handed) and paint edges of square lightly with cold water using your finger tip. Put 1/2 teaspoon of filling in center of wrapper. Fold in half, triangle shape and seal it tightly by pinching edges together with your fingers. Paint one of lower side corners of triangle with water and bring right and left corner together (water painted side down) and press well to make traditional curved wonton shape. Place wontons1 to 1/2-inch apart on a parchment paper lined baking sheet. Repeat until you finish with wonton filling and rappers.

When your wontons are ready, discard solid ingredients from soup base and bring it to boil.

Carefully add wontons and cook for 10 to 15 minutes. Wontons will be fully cooked in 3 minutes, but cook it longer so all flavor from wontons will melt in to soup. Taste and add salt and pepper to your taste at this point.

Transfer to a serving bowl, garnish with green onion, cilantro and pepper to your taste.

Enjoy!

Prep Time:

10 mins

Cook Time:

30 mins