Description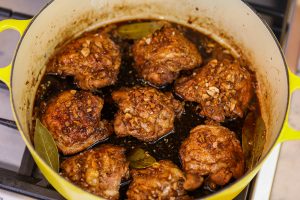 ---
4

lb bone-in, skin-on chicken thighs and/or legs

2 tbsp

cooking oil

3/4 cup

soy sauce

1/2 cup

cane vinegar or white vinegar

1/2 cup

sake or water

1 tbsp

fish sauce

3 tbsp

sugar

1/3 cup

chopped garlic
zest from

1

lime or lemon

4

bay leaves

1/2 tsp

black pepper
chopped green onions and cilantro for garnish, optional
---
Instructions
Heat a large dutch oven or a dip pan over medium high heat and add the cooking oil. Place chicken thighs, skin side down. Cook for 6 to 7 minutes or until chicken skin is golden brown and crispy.
Meanwhile, let's make the sauce!
In a mixing bowl, combine soy sauce, vinegar, sake, fish sauce, sugar, chopped garlic, lime zest, bay leaves and black pepper. Stir until sugar is all melted.
Flip over the chicken and tap out about half amount of the fat from the bottom of the pan. If you want to keep the chicken fat, go ahead and spoon it out and save it for later use! It's amazing to make fried rice or even simple fried egg!
Pour the sauce mixture and bring it to boil. Cover, reduce heat to medium low and simmer for 20 to 25 minutes.
Remove the lid and with a spoon, pour the sauce over chicken to coat the chicken evenly with the delicious adobo sauce, about 5 minutes. It's all done!
Garnish is not traditional way to serve the adobo, but I personally love the freshness of the chopped green onion and cilantro, so the choice is yours! Serve with warm cook rice. Enjoy!