Description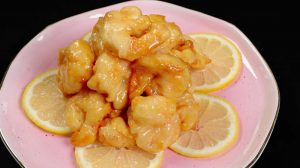 ---
For the Shrimp
1/2

lb 41/50 shrimp, deveined, peeled and tail removed

1/2 cup

tempura powder

1/4 cup

ice cold water
Frying oil
For the Sauce
3 Tbsp

mayonnaise (recommended kewpie mayo)

1 1/2 Tbsp

honey

1/2 Tbsp

condensed milk
zest from

1/2

lemon

1Tbsp

fresh lemon juice

1/4 tsp

salt
---
Instructions
Combine shrimp, tempura powder and cold water in a large mixing bowl. Give it a good mix with your hand, until shrimp is coated evenly with batter.

Heat enough oil in a medium size pot to fry shrimp, around 350°F to 365°F. To check temperature, drop a dollop of batter to hot oil. If batter starts bubble and float to surface of oil in 3 to 4 seconds, it's ready!
Drop shrimp one by one, make sure they are not stick to each others. Fry shrimp 2 to 3 minutes or until shrimp is fully cooked and golden brown crispy outside. Do batches to not crowd pot. Remove from oil and place on a paper towel lined plate.

Combine all ingredients for sauce in a mixing bowl and mix well.

Toss fried shrimp in sauce until evenly coated. Transfer to a serving plate and enjoy immediately!