Description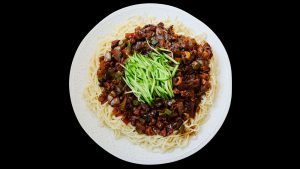 ---
1

lb pork shoulder, cut into bite size

1/2

lb frozen seafood mix or fresh shrimp and squid

5

cloves garlic, chopped (approximately

1 1/2 Tbsp

)

1 oz

ginger, chopped (approximately

1 1/2 Tbsp

)

2

large or

4

regular size green onions, chopped

2

large onions, cubed into

3/4

-inch

2

zucchinis, cubed into

3/4

-inch

2 Tbsp

cooking oil

2 Tbsp

soy sauce

2 Tbsp

yellow bean paste

1/4 cup

roasted black bean paste (Make sure to get the roasted one!)

2 Tbsp

oyster sauce

2 Tbsp

sugar

1/2 cup

chicken stock

2

to

3

tsp cornstarch and cold water

1

pertain cucumber, julienne

4

to

5

portions fresh Jjajang noodles or dried udon noodles
---
Instructions
Blench the seafood in boiling water for 15 to 30 second then drain and rice under cold water. Drain completely and set aside.
Heat a large wok or a skillet over high heat and add cooking oil. Swirl to coat. When the oil it hot, add pork and stir fry for 3 to 4 minutes or until the pork is cooked 3/4 way and the edges are brown.
Add chopped garlic, ginger and green onion. Stir fry for 1 to 2 minutes so the beautiful aroma will melt in to the oil. Splash soy sauce around the edge of the wok, not direct into the pork. This way the soy sauce will slightly burn and it will create amazing umami flavor.
Add cubed onion and zucchini. Stir fry for 1 minute to coat the vegetables evenly with the deliciousness we created!
Add yellow bean paste, black bean paste, oyster sauce, sugar and prepared seafood then stir fry away until everything is combined. The sauce should be already saucy texture from the moisture form the vegetables.
When the sauce starts boiling, add chicken stock and prepared seafood then bring back to hard boil and let it keep boil for 2 to 3 minutes. Add cornstarch and water mixture into wok and stir immediately. Turn off the heat and keep it warm.
Meanwhile, boil a pot of water to cook noodles. Cook the noodles by following the directions of the package you are using then rinse under warm water and drain.
Place the noodles on a serving plate and pour the sauce all over on top of the noodles. Garnish with julienne cucumber and it's ready to serve! Make sure to mix everything together before dig in!! Enjoy!