Description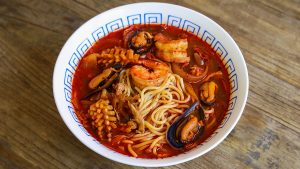 ---
4 tbsp

cooking oil

1 1/2 tbsp

chopped garlic (approximately

5

to

7

loves garlic)

2 tsp

chopped ginger

1 cup

chopped green onions (approximately

4

to

6

green onions)

4 oz

pork, julienne

6 oz

cabbage, cut into bite size

6 oz

onion, sliced (

1

medium size onion)

1 oz

carrot, julienne (approximately

1/2

medium size carrot)

2 oz

zucchini, julienne (approximately

1/2

large zucchini)

4 tbsp

gochugaru, Korean red pepper flakes (adjust the spiciness to your taste by substitute with paprika)

1 tbsp

smoked paprika

2 tbsp

soy sauce

2 tsp

oyster sauce

1/4 cup

shaoxing wine, if you don't want to assume alcohol in your cooking, you can substitute with water

6 cups

chicken stock

1/4 tsp

salt or to your taste

1 1/2

lb fresh or frozen seafood mixture (if frozen seafood, thaw out ahead) such as squid, shrimp, mussels, clams, crabs and more!

1

red chili, optional

2

portions fresh egg noodles or spaghetti
---
Instructions
Add cooking oil, chopped garlic, ginger and green onion in a cold wok or large pot. Turn the heat to medium and stir fry until you can smell the aroma, about 2 to 3 minutes.
Increase heat to high then add pork, cabbage, onion, carrot and zucchini. Stir fry to combine all ingredients, about 45 seconds then add gochugaru, Korean red pepper flakes and smoked paprika. Stir fry for 30 seconds to 1 min, then add the soy sauce and oyster sauce around the wok. This way the sauce will burn immediately which will create beautiful smokey fire flavor.
Quickly stir fry everything together and pour chicken stock and shaoxing wine. (If you are suing spaghetti, start cook the spaghetti now.) Bring it to boil. Add seafoods then bring back to boil and hard boil until all the seafoods are fully cooked, about 2 to 3 minutes. Add red or green chili.
Cook fresh noodles by following the directions of the package you are using. Drain and rinse the cooked noodles under cold water to get rid of excess starch. At the last moment, rinse with hottest water from faucet to warm the noodles back up. Drain completely and place on a serving bowl.
Pour generous amount of the seafood soup over the noodles and serve immediately! Enjoy!