Description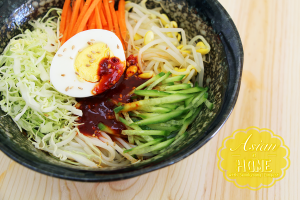 ---
For the Gochujang Sauce
2

Tbs. Gochujang (Korean red pepper paste)
Fresh juice from 1 lemon (approximately 2 1/2 Tbs)

1

Tbs. Gochugaru (Korean red pepper flakes)

2

Tbs. Sugar

1

Tbs. Toasted sesame oil

1 tsp

. Toasted sesame seeds

1

Clove garlic, minced or grated
For Assemble Jjolmyeon
1

Egg

4 oz

. Soybean sprouts

12 oz

. Jjolmyeon noodles, separate each noodle

1

Tbs. Salt

2 oz

. Cabbage, thinly sliced

2 oz

. Cucumber, julienne

2 oz

. Carrot, julienne
---
Instructions
Hard boil an egg; peel and set aside. In a small mixing bowl, combine all ingredients for gochujang sauce and whisk until smooth. Set aside.

Bring 8 to 10 cups of water to boil and add about 1 Tbs salt; add soybean sprouts and cover, cook for 4 minutes over high heat. Turn off heat and let it sit with cover on for 1 minute. Take soybean sprouts out and rinse under cold water. (Save hot water in pot) Drain completely and set aside.

Bring water (we cooked soybean sprouts) back to boil; add Jjolmyeon noodles and cook it by following directions on your noodle package. (Normally it takes about 3 to 5 minutes to cook Jjolmyeon noodles)

Drain, rinse under cold water, and rub noodles with both hands to get rid of excess starch for about 2 minutes. Drain completely.

Now, let's assemble Jjolmyeon! Place noodles in the bottom of a serving bowl and then place prepared soybean sprouts, cabbage, cucumber, and carrot right on top of noodles. Cut hard-boiled egg in halves and place a half on top of noodle bowl.

Serve immediately with gochujang sauce. Mix well with a pair of chopsticks right before you eat.
Enjoy!