Description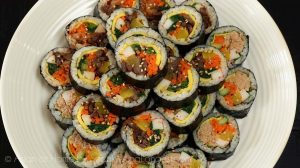 Makes 6 to 7 Gimbap
---
For Bulgogi
8 oz

beef, cut into thin small strips

1

Tbs soy sauce

1

Tbs mirin

1

Tbs sugar

1 tsp

sesame oil

1/4 tsp

black pepper

For Egg Omelet

4

eggs

1 tsp

salt

1 tsp

cooking oil
For Carrot
1

Tbs oil

6 oz

carrot, shredded

1 tsp

salt

1/2 tsp

black pepper
For Rest of Filling
6

to

7

imitation crabmeat, cut into halves into lengthwise

5 oz

Danmooji (Korean yellow pickled radish), cut into 6 to 7 long sticks

3 oz

cucumber, cut into 6 to 7 long sticks or 8 oz Korean spinach (CLICK HERE for the Recipe)


For Rice
3 cups

warm cooked short or medium grain rice

1 tsp

salt

1 tsp

sugar

1/2 tsp

black pepper

1

Tbs sesame oil

1 tsp

sesame seeds
sesame oil and seeds as needed
---
Instructions
Combine all ingredients for beef in a mixing bowl and set aside.

Meanwhile beef is marinating make egg omelet by crack and beat 4 eggs with salt. Heat large nonstick skillet over high heat; add oil and coat skillet evenly using a paper towel. Pour half of beaten eggs, swirl to evenly spread. Reduce heat to medium and cook egg until settle, about 2 to 3 minutes. Carefully flip it over and cook another 1 minutes. Remove from skillet and repeat with rest of beaten eggs. Let it cool and slice into 4 long and wide strips, set aside.

Heat same skillet we cooked eggs over high heat; add oil, carrot, salt and pepper. Sauté carrot about 2 minutes or until soften. Remove from skillet and set a side.

Using same skillet; over high heat, add marinated beef. Sauté until all moisture evaporated, about 4 to 5 minutes. Remove from skillet and set aside.

In a large mixing bowl, combine all ingredients for rice. Mix everything together with a spatula, as a cutting action. Cover with damp towel so it won't dry out while we are rolling gimbap.

Place a bamboo roller(or any roller you are using) on a work surface, place gim(dried seaweed sheet) shiny side down, rough side up. Place 1/2 cup of seasoned rice and spread evenly about 2/3 of dried seaweed that close to you. If rice sticks to your finger tips too much, wet your hand with a bit of water.

Place egg omelet, crap meat, spinach/cucumber, carrot, beef and danmooji horizontally on a third of dried seaweed that close to you.

Place your thumbs under bamboo roller with gimbap to support and hold filing tightly with rest of fingers. Give a little pressure and roll a corner closest to you over filling. Take end of bamboo roller and continue rolling until it's closed. Now, wrap gimbap with bamboo roller completely and give a light pressure to secure. Unroll bamboo roller and place gimbap seam side down on a plate. Repeat with rest of ingredients.

When you are ready to slice, coat gimbap with generous amount of sesame oil all over along with your knife. This will prevent rice stick to your knife so much. Slice gimbap into 1/2 to 3/4-inch and sprinkle with some sesame seeds. Enjoy!

Notes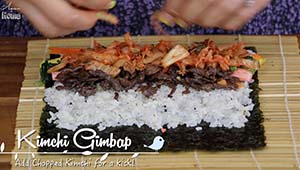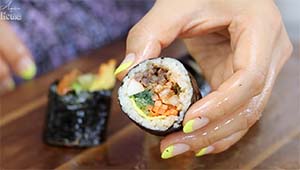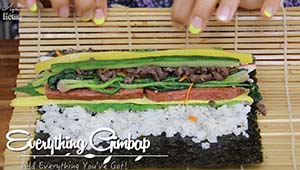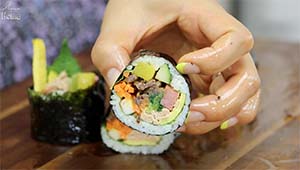 Feel free to switch and play with the filling ingredients, there is no limit! You can use spam, hotdog, pork, bacon, chicken or fried tofu. Add kimchi alway add nice kick to gimbap as well. 🙂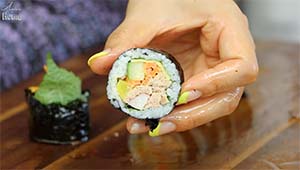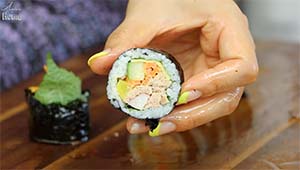 For Tuna Gimbap
Combine 7 oz drained tuna in oil with 3 Tbs mayonnaise and pinch of black pepper. I recommend to add perilla leaves and cucumber as addition filling ingredients for tuna gimbap.
Prep Time:

30 mins

Cook Time:

30 mins