Description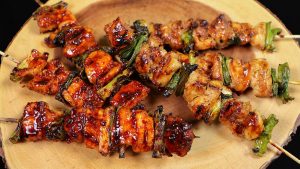 ---
For the Chicken
1

lb boneless skinless chicken breast and/or chicken thighs, cut into

1

-inch pieces


1/4 tsp

salt

1/4 tsp

black pepper

3

Tbs cooking wine

1 tsp

grated ginger (Use zester or cheese grater)

1

Tbs grated garlic (approximately

3

cloves, use zester or cheese grater)

8

to

10

green onions, 1 1/2-inch long pieces

For the Sweet Sauce
1/2 cup

soy sauce

1/2 cup

honey
For the Spicy Sauce
---
Instructions
Combine chicken, salt, pepper, cooking wine, ginger and garlic in a large mixing bowl. Give it a good mix. Cover with a plastic wrap, marinate in a refrigerator at least 20 minutes to overnight.

Meanwhile, let's make sauce!
To make sweet sauce, whisk soy sauce and honey in a medium mixing bowl until they are combined well. To make spicy sauce, add half of sweet sauce (approximately 1/2 cup), gochugaru, sriracha and black pepper in another medium mixing bowl and whisk everything together. Simple sauces are done!

Place a piece of green onion first then one to two pieces of chicken onto skewers. If you are using 6-inch skewers, you can make 6 to 7 of them.

Now, you can grill, broil or cook on a stove.
Heat your grill, broil or a skillet over medium high heat. Place chicken on a stick and cook 4 to 5 minutes first side. Flip it over then start brushing your choice of sauce on chicken. Cook 2 minutes another side and flip it, brushing sauce. Now, keep flipping and brushing sauce both sides as much as you wish until chicken is fully cooked and color and char is perfect to your taste. Serve immediately and enjoy!

Prep Time:

20 mins

Cook Time:

8 mins