Description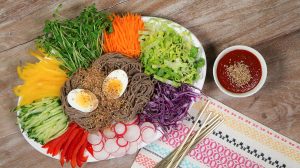 ---
For the Sauce (the sauce amount can make this recipe two times)
1/2

fuji apple, seeded, cut into chunks

4 oz

onion, cut into chunks

2 oz

cucumber, cut into chunks

3

to

4

cloves garlic

1/3 cup

light soy sauce

1/2 cup

beef stock

1/4 cup

honey

1/3 cup

gochugaru, Korean red pepper flakes

1

lemon (approximately 3 Tbsp lemon juice)
For the Vegetables (Prepare 1 lb total, you can substitute to veggies you prefer.)
cucumber, julienne
carrot, julienne
lettuce, sliced
red & yellow bell pepper, julienne
radish, sliced
regular cabbage or purple cabbage, sliced
pea shoots

3

portions soba noodles

1

hard boiled egg, cut into halves

2 tsp

sesame seeds

2 tsp

sesame oil
roasted peanuts, optional
raisin or dried cranberry, optional
---
Instructions
In a blender or hand blender, combine all ingredients for sauce. Blend well until very smooth. Place in a air tight container and let it sit in a fridge at least overnight to a couple of days.

This is a must step, you can't use this sauce right aways because flavors are a bit funky at this moment. After a day or two, all flavors of sauce will come together. So make this sauce a day or two ahead, patient is a key for this sauce!

When sauce is ready, prepare all veggies, around 1 lb. You can use any veggies you like. Arrange prepared veggies on edge of a large serving plate. Leave center as empty, so we can place noodles.

Cook soba noodles by following directions of package you are using. Drain, rinse under ice cold water and drain completely.

Place cooked soba noodles in middle of serving plate. Place hard boiled eggs, sprinkle some sesame seeds and drizzle some sesame oil. Sprinkle some roasted peanuts and raisin if you like!

Serve with sauce and pour right on top of noodles and mix well before dig in! Enjoy!