Description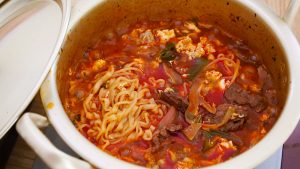 ---
1 tbsp

sesame oil

4

green onions, cut into

2

-inches long pieces

1 tbsp

gochugaru, Korena red pepper flakes

4 oz

thinly sliced beef chuck or skirt steak

1

package spicy beef flavored ramen

1tbsp

soy sauce

1

clove garlic, chopped

1

egg, beaten
handful of beansprouts
---
Instructions
Soak dried shiitakes in 2 3/4 cup of hot water.
Meanwhile, heat a pot over low heat and add sesame oil, green onions and gochugaru. Sauté for 1 minute.
Add the beef and increase heat to medium. Sauté for 2 to 3 minutes or until beef is 3/4 was cooked.
Squeeze the shiitake to get most out of the broth and pour the broth to the pot and stir. Slice the mushroom real quick and add into the pot along with soy sauce and all the seasoning package from the ramen. Stir well and cover, bring it to boil.
Meanwhile, chop the garlic and beat an egg.
When the soup is boiling, add the noodles and cook for 2 minutes or until the noodles are just loosen.
Add chopped garlic and pour the beaten egg with circular motion. Place then beansprout right on top and cover, cook 1 more minute. Serve immediately and enjoy with kimchi if you like!