Description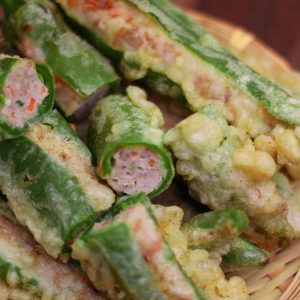 ---
For the Filling
10 oz

ground pork (You can substitute to ground beef, turkey or chicken)

3

cloves garlic, chopped

1/4 cup

carrot, chopped

1

green onion, chopped

1/2 tsp

salt

1/4 tsp

black pepper

1 tsp

cornstarch

1/4 tsp

sesame oil

1/4 tsp

sugar
To Prepare the Peppers
10

to

12

large Korean peppers or

14

to

16

jalapeno

1/4

to

1/3

cup tempura powder
For the Batter
For the Sauce (Cho-ganjang)
2 Tbsp

soy sauce

2 Tbsp

rice vinegar or lemon juice

1 tsp

gochugaru, Korean red pepper flakes (You can substitute to cayenne)
---
Instructions
In a mixing bowl, combine all ingredients for the filling and mix well with your hand. Set aside.
Cut each pepper down in the middle lengthwise, only one side- like making pepper pockets. Carefully, scraping out the seeds with a small spoon. Rinse under cold water inside out and shake off all the excess water.
Dust the peppers with tempura powder, inside out. Shake off the excess and set aside.
Fill a prepared pepper about 1 to 2 tablespoons of the filling. It's depending on the size of the pepper. Make sure the filling doesn't come out from the pepper. Repeat with the rest of the prepared peppers and the fillings.
Heat frying oil in a wok or this bottom pot to 350°F
In a bowl, combine tempura powder and water and whisk until well combined. Start from 1 cup of cold water if you like thick batter, this will be enough. Add 1/4 cup more if you like a bit thiner.
Dip stuffed pepper into batter, coat it evenly and carefully drop into hot oil. Fry for 5 to 6 minutes or until it's crispy golden outside and fully cooked inside. Remove from the oil to paper towel or cooling rack lined baking sheet.
Meanwhile peppers are cooking, let's make the sauce! Just go ahead and combine all the ingredients for the sauce and it's done!
Serve immediately with the sauce! Enjoy!