Description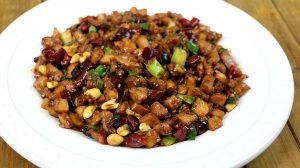 ---
For the Chicken
For the Sauce
For Stir Fry
2

Tbs. cooking oil, divided

4

to

6

cloves garlic, chopped (approximately

2

Tbs.)

1 oz

. ginger root, chopped (approximately

2

Tbs.)

10

dried chili, cut into 1/2-inch pieces (approximately

3

Tbs.)


1

Tbs. Sichuan peppercorns, toasted and lightly grind


4

to

6

green onions, cut into 1/2-inch pieces (approximately

2/3 cup

)

1/4 cup

roasted/unsalted peanuts (substitute to cashew, almond or you can omit)

1 tsp

. sesame oil (optional)
---
Instructions
Combine all ingredients for chicken in a mixing bowl, and marinate for 10 minutes.

Combine all ingredients for sauce and whisk until sugar's dissolved, set aside.

Heat a wok over high heat, add 1 Tbs. cooking oil and marinated chicken. Cook chicken for 2 to 3 minutes or until 3/4 way cooked and browned edges. Remove chicken from heat and set aside.

Add remaining 1 Tbs. cooking oil into now-empty-wok; stir in garlic, ginger, chili and Sichuan peppercorns and stir fry for 30 seconds to 1 minutes or until you can smell aroma. Pour sauce we made earlier and bring it to boil while keep stirring. (Make sure stir sauce before add into wok, because cornstarch and sugar will settle on bottom.)

Add chicken back to wok and keep stirring until chicken is evenly coated with sauce and sauce has thicken, about 1 to 2 minutes.

Stir in green onions and peanuts. Toss and cook everything together for 1 to 2 minutes and remove from heat.

Transfer to a serving place and drizzle some sesame oil if you like. Serve with warm bowl of cooked rice and other side dishes you'd like to have with. Enjoy!

Prep Time:

15 mins

Cook Time:

8 mins