Description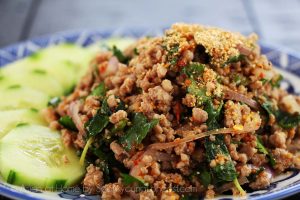 ---
For the Toasted Rice Powder
1 Tbsp

uncooked jasmine rice

1

lb. ground pork or chicken
fresh juice from 1/2 of juicy lime (If your lime is not quite juicy, use 1), Plus 2 more limes for sauce.

1/4 tsp

white pepper

1

shallot or

1/2

red onion

1

green onion
handful fresh cilantro
half handful fresh mint

1 Tbsp

cooking oil

1

heaping Tbsp palm sugar


3 Tbsp

fish sauce

2

to

3

tsp Thai chili flakes

To Serve with
---
Instructions
Heat a medium size skillet over medium heat; add uncooked jasmine rice and toast until nice golden brown, about 10 to 15 minutes. Transfer to a mortar or spice grinder and grind toasted rice into your desired fineness. I like it a bit fine but still have some crunch bites, but it's totally up to you.

In a mixing bowl, combine pork, juice form 1/2 of juicy lime and white pepper. Mix well and set aside.

Meanwhile, slice shallot thinly, chop green onion, cilantro and prepare mint by taking leaves off from stem. Set aside.

Heat a wok or large skillet over high heat, add cooking oil. Add marinated pork and cook until all the juices are gone, about 7 to 9 minutes. Remove from heat and add palm sugar into pork when pork is still hot, so it will help palm sugar to resolve easier.

In a large mixing bowl, add fish sauce and squeeze fresh juice from 2 juicy limes. Stir with a spoon to combine and add cooked pork along with all of vegetables we prepared easier, Thai chili flakes and toasted jasmine rice powder. (Leave toasted rice powder a bit for garnish later on)

Toss everything together until everything is well combined. Transfer to a serving plate and serve with cucumber, green lettuce and warm cooked jasmine rice to your taste.

You can eat just by itself, as lettuce wrap appetizer or main dish with rice.

Enjoy!
Prep Time:

10 mins

Cook Time:

10 mins