Description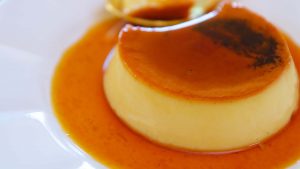 ---
For the caramel
1/4 cup

sugar

1 Tbsp

water
For the Custard
1 1/2 cup

half and half or whole milk

1/2 cup

sugar

3

eggs

1

vanilla beans, or

1 tsp

vanilla extract
---
Instructions
Preheat the oven 300 degrees. Prepare around 2 to 3 cups of boiling water.
Combine 1/4 cups sugar and 1 Tablespoon of water for caramel in a sauce pan. Do not stir, just place on a stove over high heat. About 4 to 5 minutes later, the sugar mixture should start boiling. Let the mixture keep boiling over high heat, then it will start turning into brown amber color. Swirl the pot slowly as needed to even it out. The whole process will take form 8 to 10 minutes.
Immediately, pour the caramel into 4, 7 oz (200ml) ramekins equally. Swirl the ramekins immediately as soon as you pour the caramel to spread evenly as you go. You need to move quickly, other wise the caramel will harden. Pour, swirl, pour, swirl. Set the ramekins aside.
Into another sauce pan, pour half and half and 1/2 cup sugar. Stir and place on a stove over medium heat. We are trying to warm the half and half and melt the sugar all the way. Make sure the half and half is not boil, just hot and steamy. Stir occasionally as needed. Set aside.
Crack eggs into a medium size mixing bowl. Cut vanilla bean half into lengthwise and scrape out the seeds. Add into the egg and beat the eggs with vanilla gently so the eggs won't create too much foam.
Now, we are going to slowly add still-warm half and half mixture into eggs while you are whisking the eggs. Now, strain the custard mixture through a fine strainer, just to ensure that it doesn't have any clumps.
Pour the custard mixture into the prepared ramekins equally. Cover each ramekins with aluminum foil and place in a 9×13 baking dish. Pour boiling water into the baking dish, it should come to about 1/3 to 1/2 way up of the ramekins. Carefully place into the preheated oven and cook for 40 minutes.
Remove from the oven, and remove the ramekins from the baking dish. Let it cool on the kitchen counter for 30 minutes to 1 hour then place into a refrigerator for at least 3 hours to over night.
When you're ready to serve, place a ramekin in a shallow dish with boiling water, this way the caramel will melt so it will come out form the ramekin easily. Run a butter knife or any thin knife around the edge and invert onto a large rimmed serving plate. Enjoy!