Description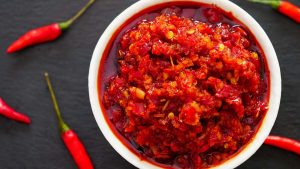 ---
1/2 cup

avocado, vegetable, canola, sunflower or peanut oil

20

large garlic cloves

2

small or

1

large lemongrass, roughly chopped

8

large red chilies (Frezno), roughly cut

5

thai chilies, optional

2 Tbsp

fish sauce or soy sauce

1 Tbsp

palm sugar or honey

2

to

5

Tbsp gochugaru (korean red pepper flakes), thai chili powderor red pepper flakes

1 tsp

chicken bouillon, optional
---
Instructions
Heat oil in a wok or pan over low heat (if you're using gas stove) to medium low (for electronic stove) heat.
Ground garlic and lemongrass in a food processor until fine chunks. Stir into the wok and cook for 5 to 7 minutes.
Now, ground red chilies and Thai chilis in the food processor- size of red pepper flakes. Stir into the wok. Add fish sauce, palm sugar, gochugaru and chicken bouillon then stir well until everything is combined. Now, cook the chili sauce for 10 minutes and stir occasionally.
That's it for this amazing Asian mother sauce, Ultimate Chili Sauce!! You can use this chili sauce pretty much on/in everything and anything. Soup, ramen, rice, noodles, spread, dipping sauce, toppings… endless!!