Description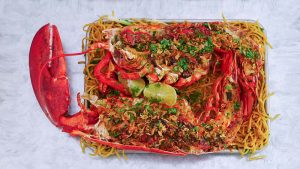 ---
For the Flavored Butter
6 Tbsp

unsalted butter

1 tsp

chopped ginger

1/4 cup

chopped garlic (approximately

10

to

13

cloves garlic)

1/2 cup

chopped green onion (approximately

4

to

5

green onions)

3 Tbsp

chopped lemongrass (approximately

1

lemongrass)

4

thai chilies, chopped, optional

2 Tbsp

fish sauce

1 Tbsp

palm sugar or honey

1/4 tsp

black pepper
For the Lobster
4

to

4 1/2

lb lobster or

2

of 2 lb lobsters/lobster tail

4 Tbsp

flavored butter
For the Noodles
Remaining flavored butter

1

lb precooked & ready to use egg noodles (If you're using dried egg noodles, prepared by following the directions of the package you're using)

1 tsp

oyster sauce plus more to taste

3

green onions, cut into

2

-inch pieces
For the Garnish
Lime or lemon
Cilantro
Fried shallot
---
Instructions
Combine all ingredients for the flavored butter and bring it to boil over medium heat. Let it keep simmer for 10 to 15 minutes. Remove from heat and set aside.
Steam (you can boil as well if you prefer) the lobster over boiling water for 9 minutes for 2 pounds. Add 1 more minute per half pound. This way the lobster won't be fully cooked, but only 3/4 way through cooked. Remove lobster from the steamer and place in a ice water to stop cooking.
Cut lobster in halves and place on a baking sheet. Brush total of 4 tablespoons flavored butter on lobster halves. High broil (500°F) the lobster on the medium rack for 2 to 3 minutes or until the lobster is fully cooked. Keep it warm.
Meanwhile, let's make the egg noodles to serve together with the lobster.
Heat a wok over high heat; add remanning flavored butter. Add the noodles and oyster sauce. Stir fry until the noodles are fully cooked and soft, about 2 to 4 minutes. If the noodles need to cook more, add a splash of water to help them steam and finish cooking.
Add green onions and toss. Stir fry for 1 minutes and remove from heat.
Place fried noodles on a large serving plate and pour the juices from the lobster on the bottom of the baking sheet. Then finally top the noodles with gorgeous lobsters. Squeeze fresh lime or lemon juice right on top then garnish with chopped cilantro and fried shallot! Enjoy~!!