Description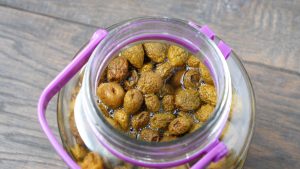 ---
Scale
Ingredients
5

lb maesil, or known as ume, green plum

10 cups

sugar
---
Instructions
Wash well green plums under running cold water and dry completely for a few hours in a cool place.
Wash a 5 litter (1.32 gallon) glass jar with tight lid with hot water and dry completely.
Remove stems from green plums using a toothpick or tip of steak knife. Also dry each one of them with paper towel to make sure it's completely dried. (any water in this process might cause mold)
Place about 1 lb of green plums (approximately 15 green plums) in the bottom of the prepared glass jar. Pour 2 cups of sugar, it should cover the green plums. Repeat the layers with same amount of green plums and sugar, it should to about 5 layers.
At the last layer, it should be end with sugar and when you do, make sure the sugar covers the green plums completely. You probably think it's too much sugar but that's the right amount. If you don't cover the last layer with generous amount of sugar, it might cause mold.
Cover the lid and close tightly and make sure to mark the date you made on the jar. Place in a dark and cool spot, like under the kitchen counter. You don't have to check everyday, it will slowly melt the sugar and become liquid about a couple weeks later. Stir everything once in a couple weeks to help the sugar melt all the way and let it air out.
months later, strain the fruit out from the liquid and keep the liquid in a refrigerator. You have to strain at 3 months mark, because after 3 months, the seeds will start release its poison to the liquid. What I like to do is not strain at 3 months but let it fermeuntate for over 1 year before use. After 1 year, the poison from the seeds will be neutralized.
So it's totally up to you, either 3 months or 1 year fermentation!
Maesilaek could be used in a dressing, marinate, braised fish or chicken. It also can be mixed with carbonated water and ice or hot water so you can enjoy as tea!
---
Notes
What to do with the leftover fruits after strain?
1. The fruits can be re-used to make maesil soju or maesil vinegar, which is just place the fruits in another air-tight jar and pour same amount of soju (or sake) or rice vinegar (it has to be right vinegar).
2. Separate the fruits and seeds and add more sugar to make jam!
3. Also you could just place the fruits in the refrigerator and enjoy as snack! It's amazing for constipation!