Description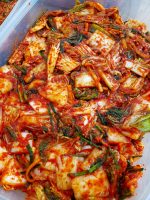 ---
For the Cabbage
For the Kimchi Paste
For the Filling Vegetables
2

lb Korean radish, julienne

8

to

10

green onions, cut in halves lengthwise if it's thick then cut into

1

-inch long pieces

1

bunch of Korean mustard, cut into 1-inch long pieces (approximately

4 cups

)

1

bunch Korean or garlic chives cut into 1-inch long pieces (approximately

2 cups

)
---
Instructions
Cut the cabbage into quarter in lengthwise and remove the core. Cut the leaves into bite sizes.
Sprinkle salt evenly to all of the cabbage layer by layer. Splash 3 cups of water at the end. Salt down cabbage for 7 to 9 hours if it's 60 degrees and below (fall/winter time), 4 to 5 hours if it's 60 degrees and high (summer time). Rotate the cabbage once or twice of the salting process.
Rinse at least 3 times through in cold water and place in a large strainer. Drain completely, about 1 hour.
Meanwhile, let's make kimchi paste. In a sauce pan, add 3 cups water, dried pollack and dried kelp. bring it to boil over high heat, reduce the heat to medium and simmer for 10 minutes. Remove from the heat and remove all the solid ingredients.
Add sweet rice flour and whisk. Return to the heat and bring its to soft boil over medium high heat. Keep whisking and cook for 2 minutes. Remove from the heat and let it cool.
In a large mixing bowl, combine the sweet rice porridge, gochugaru, fish sauce, saewoojeot, maesilaeg, sugar and salt.
Add the radish, green onions, mustard leaves and chives into the kimchi paste and mix well with your hand. (Make sure to wear a glove!)
Now, toss the salted and drained cabbage and mix well until everything is evenly combined. If your mixing bowl is not big enough, just do half or quarter at a time.
Transfer to a air tight container (Make sure to give container about 1 inch room, because when kimchi is fermenting it will bubble and expend). Close tightly and place on your kitchen counter for 1 to 3 days, depending on your taste then place in a refrigerator. I like to leave 2 days (48 hours). Enjoy!