Description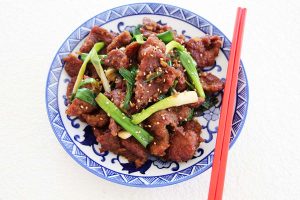 ---
For the Beef
1

lb. Beef chuck

1/4 cup

Corn starch

1 tsp

Baking soda

1

Egg

1/8 tsp

. Black pepper
For the Sauce
1/4 cup

Soy sauce

1/4 cup

Cold water

1/4 cup

Sugar
For the Stir-frying & Frying
8

Cloves garlic

2

Bundles of green onion
Frying oil (approximately 2 cups) Canola, peanut, vegetable oils are recommended

2 Tbsp

Cooking oil, Canola, peanut, vegetable oils are recommended
Toaste sesame seeds to taste
---
Instructions
Trim unnecessary fat from beef and cut into bite size, 1/8 to 1/4 inch thin slices.

In a mixing bowl, combine all ingredients of Marinade for the Meat; mix well with your hand until you don't see any lumps. Set aside.

In another mixing bowl, combine all ingredients of the Sauce; whisk until sugar has dissolved. Set aside.

Roughly chop garlic, set aside. Cut top end and root of green onions. Cut into halves lengthwise and then cut into 2 inches long pieces. Set aside.

Pour frying oil into your wok, at least 1 1/2 to 2 inches deep. (My wok needed about 2 cups, but it's depending on your wok size.) Heat oil over high heat to 350°F (176°C).

Carefully add half amount of beef into wok, and stir with a spatula to separate them. We are doing batches so beef will cook evenly quicker. Cook about 2 to 3 minutes or until beef is cooked and golden brown. Gently take them out from wok to a plate or wide bowl that lined with paper towels. Repeat with rest of beef. Set aside.

Pour out oil into a heat proof bowl. If you would like to use this oil again, let them cool while you are cooking and eating and then strain through a paper towel lined strainer so you can reuse it other time.

Wipe your wok with paper towel lightly, inside and out. Heat your wok over high heat and add 2 Tbs. cooking oil. Add chopped garlic and stir fry until you can smell fragrance of garlic, about 45 second to 1 minute.(Add chili flakes if you want to make it spicy!) Add fried beef into wok, stir fry with garlic and oil. About 45 second to 1 minute.

Add sauce, and stir fry for about 2 to 3 minutes or until meat has absorbed most of sauce.

Now add green onions, and stir try one last time, for about 30 second to 1 minute.

Transfer to a serving plate and garnish with toasted sesame seeds if you like.

Enjoy with warm cooked rice!
Prep Time:

10 mins

Cook Time:

15 mins