Description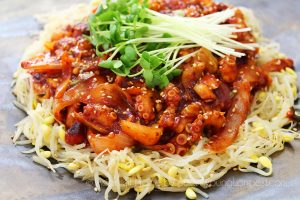 ---
1

lb (16oz) nakji, Korean small octopus

2 Tbsp

kosher salt
For the Sauce
1 Tbsp

gochujang, Korean red pepper paste

3 Tbsp

gochugaru, Korean red pepper flakes

1 1/2 Tbsp

soy sauce

2 Tbsp

brown rice syrup, corn syrup or honey

1 tsp

cornstarch

1 Tbsp

mirin

1tsp

sesame oil

1/4 tsp

black pepper

2 Tbsp

chopped garlic (approximately

5

to

6

garlic cloves)
Vegetables
5 oz

yellow or white onion (approximately

1/2

of large size onion)

5 oz

green cabbage (approximately

1/4

of small size cabbage)

2 oz

carrot (approximately

1/2

of medium size carrot)

2

green onions

1

green chili to taste

2 Tbsp

cooking il
For Soy Bean Sprouts
Garnish
sesame seeds
radish sprouts or any green sprouts
---
Instructions
Thaw out nakji(small octopus) if you are using frozen one, or clean all guts and cut into bite size if you are using fresh one. Sprinkle kosher salt on nakji and scrub them with rubbing action to clean their suctions, about 2 to 3 minutes or until you see small bubbles. When you see bubbles, since off nakji under running cold water throughly to get rid of all salt. Drain completely, set aside.

In a large mixing bowl, add all ingredients for the sauce and mix well with a spoon until they are glossy and smooth. Add drained nakji and mix together. Set aside and let them marinated while we are preparing vegetables.

Slice onion and cabbage into 1/2 inch wide, slice carrot into 1/8 inch thin and green onion into diagonal angle. Slice green chili into diagonal angle as well if you are using.

Heat a wok over hight heat, add oil. Add onion, cabbage and carrot; stir fry for 2 minutes or until they are soft.

Add nakji and sauce mixture into wok, make sure scrap all sauce from mixing bowl to not miss out even a drop of deliciousness! Stir fry for 3 minutes or until nakji's cooked perfectly. Be careful not to overcook nakji, it will get rubbery.

Stir in green onion and remove from heat.

Mix blenched soy bean sprouts and sesame oil in a bowl; place on serving plate.

Place nakji bokkeum on top of soy bean sprouts and garnish with sesame seeds and radish sprouts.

Enjoy!
Notes
You also can just serve Nakjii Bokkeum with warm cooked rice or somyeon(some) noodles.
Prep Time:

10 mins

Cook Time:

5 mins