Description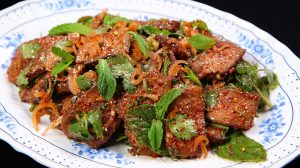 ---
1

lb steak (New York strips, sirloin, ribeye or skirt steak)

2 Tbsp

thin soy sauce or light soy sauce

1 tsp

freshly grounded black pepper

1/2

stalk of lemon grass, sliced diagonally

1

Tbs cooking oil

1 Tbsp

fish sauce

1 1/2 tsp

palm sugar or regular sugar
fresh juice from 1/2 juicy lime (approximately 2 Tbsp)

1

to

2

Tbsp dried Thai chili flakes or regular red flakes

1 tsp

toasted sticky rice powder*

1

small shallot

1

green onion
handfull cilantro
handfull mint
---
Instructions
In a mixing bowl or ziplock bag, combine steak, soy sauce, black pepper and lemon grass. Give a massage to coat steak evenly with soy sauce and black pepper. Cover with a plastic wrap close tightly if you are using ziplock bag) and marinate at least 20 minutes at room temperature or overnight in a fridge.

You can grill, which is more traditional way to prepare Nam Tok (In the Thai language it means "waterfall", which is look of beef juice/blood falling from beef while it's grilling.) or just cook on a skillet.
Heat a cast iron pan or large skillet over high heat, add cooking oil. Place marinated steak along with excess soy sauce in marinate and lemongrass pieces on to pan.

Cook steak 3 to 4 minutes each side for medium-rare, 4 to 5 minutes for medium if you are using 1-inch thick steak. Don't forget to sear side of steak as well. Remove from heat and let steak rest for 5 minutes.

Meanwhile, slice shallot thinly, chop green onion, cilantro and prepare mint by taking leaves off from stem. Set aside.

Slice steak into 1/4-inch thick.

In a large mixing bowl, whisk fish sauce, palm sugar, lime juice and chili flakes all together. Stir in sliced steak along with toasted rice powder. Toss until steak pieces are coated evenly with dressing.

Finally, toss in all of vegetables we prepared easier. Transfer to a serving plate and garnish with toasted rice powder. Enjoy with sticky rice or by itself!

Notes
Toasted Sticky Rice Powder:
Heat a medium size skillet over medium low heat; add uncooked Thai sticky rice (you can substitute to jasmine rice) and toast until nice golden brown, about 3 to 4 minutes. Transfer to a mortar or spice grinder and grind toasted rice into your desired fineness. I like it a bit fine but still have some crunch bites, but it's totally up to you.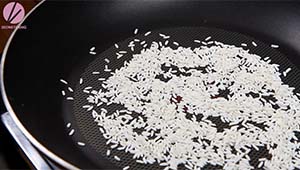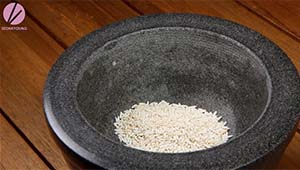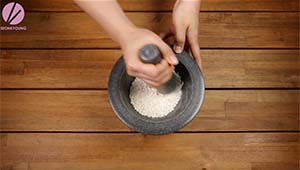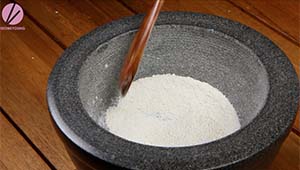 Prep Time:

20 mins

Cook Time:

8 mins