Description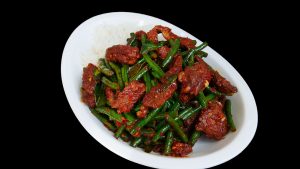 ---
2 tbsp

cooking oil

10 oz

beef ribeye, chuck or skirt steak, cut into bite sizes (You can use chicken too)
pinch of salt
pinch of black pepper

3 tbsp

Thai red curry paste

3

cloves garlic, chopped

1 tbsp

Thai red pepper flakes, optional

1 tbsp

Asian Mother Chili Sauce, optional

10 oz

long green beans or regular green beans, cut into 1 1/2-inch long pieces

3

to

5

kaffir lime leaves, center stem removed

1/4 cup

water

1

to

2

tbsp fish sauce (depending on what red curry paste you're using adjust to your taste)

1/2

to

1

tsp palm sugar, honey or regular sugar (depending on what red curry paste you're using adjust to your taste)
---
Instructions
Heat a wok or large skillet over high heat. Add 1 tbsp oil and wait until you can see the wave in the oil and a bit of smoke.
Add the beef, season with pinch of salt and pepper. Stir fry for 1 to 2 minutes or until the edges are crispy seared and 1/2 to 3/4 way cooked. Turn off the heat, transfer the beef from the wok to a plate and set aside.
The heat is still off, add remaining 1 tbsp oil into now-empty wok along with curry paste, garlic, chili flakes and Asian mother chili sauce. Turn the heat back on to over high heat and stir fry the sauces all together, about 45 seconds to 1 minute.
Add green beans and kaffir lime leaves and stir fry until the green beans are covered with the sauce evenly. Now, add 1/4 cup of water (1/2 of water if you're using regular green beans), fish sauce and palm sugar. Stir fry for 3 to 4 minutes or until green beans are cooked to your like. Add a tbsp water at a time if the sauce is getting too thick or burning.
Return the seared beef into the wok and stir fry all together, about 1 minute. Remove from heat and it's ready to serve!
Serve with some warm cooked Jasmine rice and enjoy!