Description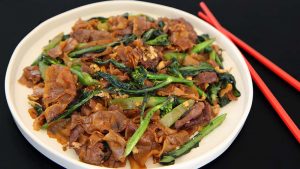 ---
For the Sauce
1

Tbs oyster sauce

3

Tbs cooking oil (I recommend peanut, sunflower, canola or vegetable oil)

1/2

lb beef flank steak, sliced against grain and cut into bite sizes (you can substitute chicken, pork, shrimp or tofu)


4

cloves garlic, chopped

1/2

lb Chinese broccoli (you can substitute regular broccoli or broccoli), sliced diagonal angle


10 oz

fresh rice noodles sheet, separated to single pieces then teared to large pieces or chow fun noodles (If you're using refrigerated rice noodles, bring it to room/warm temperature so it will easily separate by hand)

1

egg
Black pepper
---
Instructions
Combine all ingredients for sauce, set aside.

Heat a wok over hight heat; add 1 Tbs. cooking oil and add beef. Sear beef 1 to 2 minute each side or until beef edges are brown. Remove from wok and set aside.

In same wok, add remaining cooking oil; add garlic, stir fry for 30 seconds or until you can smell the aroma. Before garlic turns into brown color, add Chinese broccoli and 1 minute or until broccoli is slightly soften.

Add noodles and sauce we made earlier. Stir until noodles and vegetables are coated with sauce evenly. Spread and let it sit for 30 to 45 seconds to sear noodles. Toss and do same to other side. Repeat 2 to 3 more times as needed.

Push noodles and vegetables to side of wok to make room for egg. Add tiny bit more cooking oil and crack egg into wok. Scramble egg separately then mix into noodles and vegetables.

Add seared beef back to wok, toss everything together and stir fry for 30 second to 1 minute. Remove from heat.

Transfer to a serving plate and garnish with freshly grind black pepper. Serve immediately with Thai chili vinegar to your taste. Enjoy!

Notes
Add fresh Thai chili or dried Thai chili powder when you adding beef back to wok if you'd like some kick!
Prep Time:

5 mins

Cook Time:

12 mins