Description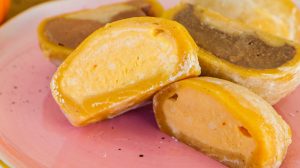 ---
12

scoops ice cream

1 cup

mochico (sweet rice flour)

1/2 cup

sugar

1/2 tsp

pumpkin pie spice

1/4 cup

pumpkin pure
pinch of salt

1 1/4 cup

water

1/2 cup

to 1 cup potato starch or cornstarch
---
Instructions
Line cupcake pan with cupcake liners and scoop your favorite ice cream into it. Place in a freezer and freeze at least 2 hours.
Meanwhile, let's make pumpkin spice mochi!
In a medium size mixing bowl, combine
mochico, sugar, pumpkin pie spice, pumpkin pure, salt and water. Whisk until there's no lumps.
Loosely cover with plastic wrap and microwave for 2 minutes. Remove from the microwave and stir until the mochi batter is evenly mixed again. Repeat the process 2 more times, total cooking time is 6 minutes.
Dust large baking sheet withpotato starch evenly and pour the cooked mochi. Dust top of the mochi with potato starch as well. Carefully roll out the mochi into large sheet, the thickness should be between 1/8 to 1/4 inch.
Cut the mochi into square 12 sheets then brush off the excess starch and place on a parchment paper. Repeat until all the mochi pieces are dusted off and cover with plastic wrap to prevent the mochi from drying out.
Carefully place a piece of prepared mochi on a piece of plastic wrap. Place a scoop of ice cream on top of mochi, dome side down.
Pinch the mochi edges to seal and loosely seal with plastic wrap and replace in the cupcake pan. Quickly working on the rest of the ice cream and mochi and freeze the mochi ice cream in the freezer for at least 2 hours before serve.
Enjoy!