Description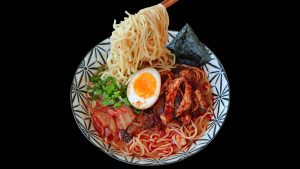 ---
For the Broth
For the Flavored Oil
For the Spicy Miso Tare
For the Seasoning, noodles and toppings
---
Instructions
In a large pot, add all ingredients for the borsht accept sake and chicken breast. Cover, bring it to boil and reduce heat to medium and simmer for 30 minutes.
minutes later, add the chicken breast and the sake into the pot, cover and let it simmer additional 20 to 25 minutes or until the chicken is fully cooked.
Meanwhile, let's make the flavored oil and the spicy miso tare!
In a sauce pan, combine all the ingredients for the flavored oil and let it infuse the flavors over low heat for 8 to 10 minutes. Remove from heat and let it cool.
In another sauce pan, combine all the ingredients for the spicy miso tare and whisk until smooth. Bring it to boil over medium high heat and let it keep boil for 2 to 3 minutes. Remove from heat and set aside.
Now, remove chicken from the pot along with the shiitake mushrooms. Make sure squeeze the shiitake because it soaks up lots of broth. Turn off the heat and remove all the solid ingredients from the broth as well. Remove big chunky stuff with tongs first then using a small strainer and take every small bits for nice and clean ramen broth!
Let the chicken and shiitake cool (enough to handle with your hands) then slice the shiitake thinly and shred the chicken into bite sizes.
Drain the flavored oil into a separate bowl and set the clean oil aside. Those chunky stuff left from the flavored oil, add into the chicken and shriitake. Make sure get rid of the big chunk of ginger and garlic pieces though. Also add 2 Tbsp soy sauce, 1 Tbsp sugar and 1/4 tsp black pepper into the chicken. Mix everything together and set aside.
When you are ready to serve the ramen, bring a pot of water to boil to cook ramen noodles and bring the broth to boil. Cook the ramen noodles by following the package you're using. Drain completely.
In a serving bowl, add 1/4 cup of spicy miso tare, 1 Tbsp flavored oil and 2 cups of boiling hot broth. Add the cooked noodles into the bowl and stir- so the noodles will coated evenly with the broth.
Arrange kimchi, chicken mixture, chopped green onion, ramen egg and nori. If you like to, sprinkle some shichimi. Serve immodestly and enjoy!