Description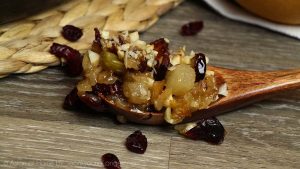 ---
1 cup

short grain sticky rice(sweet rice)

5

thick cut bacon, cut into bite sizes

3

cloves garlic, chopped

1

medium size yellow onion, diced

3

stalks celery, cut half in lengthwise, diced

1/2 tsp

salt

1/4 tsp

black pepper

1

Korean pear (aka Asian pear), diced (you can substitute with bosc pear, anjous pear or fuji apple)

1 1/4 cup

chicken stock (if you like your stuffing drier side, add only

1 cup

)

1/2 cup

dried cranberry

2

to

3

Tbs unsalted butter

1/2 cup

chopped nuts
---
Instructions
Wash rice under cold water by gently rubbing with your hand until you see clear water, no more cloudy milk water. Soak rice in enough cold water (about 1-2 inch above from rice) at least 2 hours to overnight.

Preheat oven to 400°F

Heat a cast iron skillet or oven safe skillet over medium heat; add bacon, cook until golden brown edges and slightly crispy.

Add garlic, onion and celery, season with salt and pepper. Sauté about 5 to 6 minutes, or vegetables are soften. Stirring occasionally.

Add pear and cook additional 1 to 2 minutes. Stirring occasionally.

Drain soaked rice and add into skillet. Toast rice about a minute then add chickens tock and dried cranberry. Mix everything together and flat out surface.

Cover with aluminum foil and bake in preheated oven for 20 to 25 minutes or until rice is fully cooked.

Remove aluminum foil. Fold in butter and flat out surface. Sprinkle chopped nuts on top. Back to oven with no cover for 5 minutes or top of stuffing is golden brown. Remove from oven and serve. Enjoy!

Prep Time:

2 hours

Cook Time:

40 mins