Description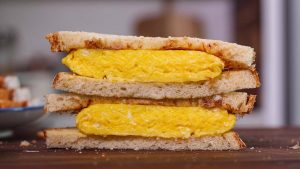 ---
---
Instructions
Whisk eggs with salt and sugar in a mixing bowl. Set aside.
Spread 1 tsp of mayonnaise each slice of breads evenly. You can toast the bread if you want, but usually in Japan, they don't toast the bread when making tamago sando. Now, sprinkle Katsuobushi on only one slice of bread. Set aside.
Heat a nonstick skillet over medium. Add butter and let it melt completely. Pour egg mixture and constantly scramble with chopsticks or any utensil that you feel comfortable with. When you move the chopsticks and the eggs are not coming together by themselves, about 55 seconds to 1 minute, it's time to shape them as a round omelet.
Carefully and gently putting the eggs together to a corner of the skillet. Use spatula if needed. Try your best not to get brown spots on the egg. Flip over the omelet with a spatula if you prefer your omelet to be more solid texture.
Turn off the heat and remove omelet form the skillet to katsuobushi sprinkled bread. Cover with the other slice of bread and cut them into half if you prefer.
You can make this Tamago Sando at night, wrap it tightly with plastic wrap and keep it in a refrigerator. A perfect grab-N-go breakfast in the morning!! Enjoy!