Description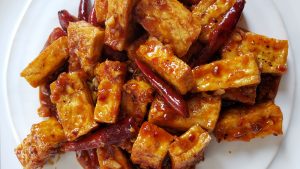 ---
For the Tofu
1

block of medium firm to firm tofu

1/4 tsp

salt

1/4 tsp

pepper
For The Sauce
1 tbsp

soy sauce

3 tbsp

apple vinegar (you can use any vinegar you have!)

2 tbsp

raw sugar

1

to

3

tsp sambal (adjust to your taste)

1/3 cup

vegetable stock

1 tsp

cornstarch

1 tbsp

lao gan ma, chili oil with chili flakes (purchase or make homemade one!)

3

to

5

dried Thai chilis

2

cloves garlic, chopped
sesame seeds
---
Instructions
Preheat air fryer over 380°F – 390°F
Drain tofu and wrap with some paper towel and place a salt container or anything that has a weight on top of the tofu. Let it sit for 5 minutes.
Cut the tofu into 2-inch long rectangles and season with salt and pepper. Place tofu into the preheated air fryer and cook them for 15 mins or until golden brown all around. Shake and turn them around in the halfway through.
Meanwhile, combine soy sauce, vinegar, sugar, samba, vegetable stock and cornstarch in a mixing bowl and set aside.
In a cold pan, add chili oil, dried chilis and garlic. Turn on the heat to medium high and stir fry for 2 to 3 minutes or until you smell the aroma. Keep stir to prevent burnt garlic.
Mix the sauce mixture one more time (because cornstarch will sink down to the bottom) and pour in the pan. Stir immediately. Cook the sauce 1 to 2 minutes or until the thickness you desire.
Add the air-fried tofu and toss evenly. Cook additional 1 to 2 minutes so tofu has some time to soak up the flavor of the sauce. Remove from the heat and garnish with sesame seeds if you like. Serve with some warm cooked rice and steamed veggies if you want it to be a meal or it can be an amazing appetizer as it is! Enjoy!