Description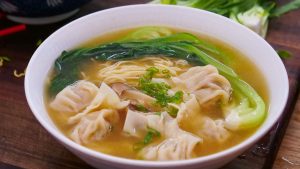 ---
For the Wontons (Makes 34 to 36 wontons)
1/2

lb peeled and deveined shrimp, finely chopped

1/2

lb ground pork or ground chicken

1 tbsp

shaoxing wine or dried sherry

1 tbsp

soy sauce

1 tbsp

sesame oil

1/2 tbsp

cornstarch

2 tsp

grated garlic (approximately

3

cloves)

2 tsp

grated ginger

2

to

3

green onions, finely chopped

1/4 tsp

sugar

1/4 tsp

black pepper

34

to

36

square wonton wrappers
For the Noodle Soup (Makes 2 servings)
4

large slices ginger

2

cloves garlic, crushed

2

green onions

1

dried shiitake mushroom

5 cups

chicken stock

2 tsp

soy sauce

2 tsp

fish sauce

2

to

4

heads bok choy or

4 oz

of any veggies you like

2

portions egg noodles, I'm using precooked & ready to use egg noodles but you can also use dried or fresh one
---
Instructions
In a mixing bowl, combine all ingredients for wontons except the wonton wrappers. Mix well with fork or chopsticks in one circular direction.
Bring one dumpling wrapper at a time one your palm and we the edges slightly with water. Place 1 heaping teaspoon filling in the middles and fold by bring all the edges together. No special skill required for this type of wonton, just makes sure it's well sealed.
If you would like to freeze the dumplings at this stage, place dumplings on a baking sheet as one layer and not touching. Then freeze them a couple hours. Transfer frozen dumplings in a air tight plastic bag and seal tight. Keep it freeze.
When then wontons are ready, it's time to make the noodle soup!
In a medium – large pot (for 2 portions), combine ginger, garlic, green onions, shiitake and chicken stock. Cover and bring it to boil, reduce heat to medium low and simmer for 5 to 10 minutes.
Meanwhile cut the bok choy into quarter.
Remove all solid ingredients and discard except shiitake. Slice the shiitake and set aside, because we're going to serve in the soup!
Season the soup with soy sauce and fish sauce. You can use only soy sauce if you want, I just prefer the flavor from both.
Cook the egg noodles and bok choy in a separate boiling water, if you are cooking large amount or/and your egg noodles are dried or fresh one with lots of starch around.
I'm using precooked egg noodles, so just cooked in the soup for 1 minute. Removed from the soup and place in a serving bowl. I also cook the bok choy in the soup for 2 to 3 minutes or until it's done as you desired. Remove from the soup and place on top of the noodles. Now is the time to place sliced shiitake in the bowl.
Carefully add wontons (5 per serving) into soup and cook for 5 to 6 minutes. Taste the soup and add salt and pepper to your taste at this point.
Pour the wontons with the soup over the prepared noodles and veggies. Garnish with chopped green onions if you like. Enjoy!