Description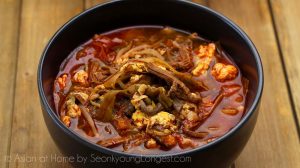 ---
For the Beef Stock
For the Chili Oil
For the Vegetables
To Serve (for 2)
---
Instructions
In a large pot place all ingredients for beef stock including 15 cups cold water. If you have a tea filter bag, it will be great to use to hold garlic cloves and black pepper corns.

Cover, bring it boil over high heat. Skim sums and fat as needed. (a skimmer would be very useful. It's very convenient when you're making Asian soups)

Remove kelp, reduce heat to medium and simmer for 2 hours 30 minutes.

Turn off heat, remove beef and all other solid ingredients. You can discard all vegetables, and cool beef so we can shred with hands.

Meanwhile beef is cooling down, let's make chili oil.

In a small sauce pan, add all ingredients for chili oil except soy sauce; on low heat, let it infuse flavors and color for 15 minutes. Mix everything with spatula and anchovy will melt down into oil.

Increase heat to medium and add soy sauce. Let it bubble and cook for 1 minute. Remove from heat.

Shred beef in a large mixing bowl. Add prepared and cut gosari, gobi and torandae if you are using any.

Cut green onion in halves lengthwise, then cut into 2-inches long pieces. If you are using Korean large green onions, cut into 2-inches long pieces first then cut into quarter. Add into beef mixture.

Pour chili oil into beef and vegetable mixture and toss everything together with your hand. (make sure you are wearing kitchen glove. If you don't have one, just use tongs or spatular to mix.)
Add beef and vegetable mixture into beef stock we made earlier along with bean sprouts. Stir everything together with a spoon and cover, bring it to boil over high heat.

Reduce heat to medium and simmer for 2 hours.
Right now (when you put soup into simmer) is perfect timing to soak Korean glass noodles in warm water, if you are using any, so they will soften during soup is simmering.

Remove from heat, yukgaejang is ready to serve with warm bowl of rice as it is right now. But if you prepared glass noodles and/or egg, follow the next steps.
Soak glass noodles in hot water for 30 minutes. Move 2 portions of yukgaejang into medium size pot, bring it to boil. Pour beaten eggs into boiling yukgaejang gently. Bring soup back to boil and cook 30 seconds to 1 minutes. Don't stir yukgaejang, to prevent cloudy soup.

Pace soaked noodles into serving bowl and pour boiling yukgaejang. Serve with warm bowl of rice and any Korean side dishes you'd like! Enjoy!

Notes
After add glass noodles and eggs into big batch of soup, it won't keep as long.
Prep Time:

2 hours 30 mins

Cook Time:

2 hours