Description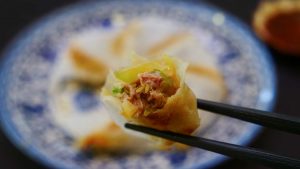 ---
2 cups

chopped cabbage

1/2 tsp

salt

1

clove garlic, chopped (approximately

1 tsp

)

1 tsp

chopped ginger

1/2

medium size leek, only white & light green part, washed well & chopped (approximately

3 Tbsp

)

8 oz

ground pork (you can substitute to ground chicken or beef)

1 1/2 tsp

soy sauce

1 tsp

sake

1 tsp

sesame oil

1 tsp

sugar

1 tsp

cornstarch

22

to

24

gyoza wrappers
cooking oil
For the Slurry
1 tsp

corn starch

3 Tbsp

cold water
For the Dipping Sauce
---
Instructions
Mix cabbage and salt in a mixing bowl and let it sit to 10 minutes. Meanwhile, chop rest of the vegetables.
Place salted cabbage on a clean kitchen towel and squeeze all the moister out. Like you are doing hand-wash clothes.
Now, in a mixing bowl, add all the veggies- cabbage, garlic, ginger and leek along with ground pork. Season them with soy sauce, sake, sesame oil and sugar. Mix everything together until well combined.
Bring one gyoza wrapper at a time on your palm and wet the edge with water slightly if your dumpling wrapper. Place 1 Tbs. filling in middle, fold as a half moon shape. Seal by fold one side of the wrapper 1/4-inch then press edges together and repeat until gyoza is completely sealed. Place on a parchment paper lined baking sheet and repeat until you are done with the wrappers and the filling.
If you would like to freeze the gyoza at this stage, place gyoza on a baking sheet as one layer and not touching then freeze them a couple hours. Transfer frozen gyoza in a air tight plastic bag and seal tight. Keep it freeze.
Heat a 8-inch skillet over medium high heat; add 2 tsp oil and place gyoza by giving them some room so they don't touch each others.
Quickly mix cornstarch and water to make slurry and pour to the skillet. Cover and let it cook for 5 to 6 minutes or until gyoza is fully cooked and all the moisture's evaporated.
This is perfect time to make the dipping sauce! Go ahead and mix all the ingredients for the dipping sauce and it's ready to go!
Place a dish (that is slightly bigger than the skillet) over the skillet. Carefully but fast, turn it over the whole thing. Carefully separate the dish and the skillet and serve the gyoza immediately. Enjoy!