Description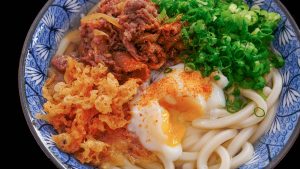 ---
2

eggs
For the Tempura Flakes (You can also buy tempura flakes from Japanese grocer or online)

1/2 cup

tempura powder

3/4 cup

water
Frying oil
For the Beef

8 oz

thinly sliced beef ribeye or sirloin

1 1/2 Tbsp

soy sauce

1 1/2 Tbsp

sugar

1 1/2 Tbsp

mirin

1 1/2 Tbsp

sake, rice wine

2 tsp

vegetable oil

1/2

medium size onion, sliced

1/2 cup

dash broth (I usedHondashi powder, but you can make it from scratch by following my dash recipe)
For the Beef Udon

1

serving portion of fresh frozen udon or dry udon noodles
Tsuyu, Japanese soup base

4

green onions, chopped
Shichimi togarashi, optional
---
Instructions
Prepare sous vide 145°F 
Carefully add eggs and cook the eggs for 1 hour. Remove the eggs from the water and place in a ice water bath to stop cooking. If you want to make the soft egg without sous vide, please check out my "Kimchi Fried Rice with Beef Short Ribs" recipe! You can also use simple poached egg or soft boiled egg.
You can buy tempura flakes from Japanese grocery or online. 
But if you are making tempura flakes from scratch, heat frying oil 375°F. Combine tempura powder and water in a mixing bowl. Carefully add 2 to 3 tablespoons tempura batter (at a time ) into hot oil with circling action. Fry tempura batter for 1 minute or until golden brown crispy. Remove with a strainer and place on a paper towel lined tray. Repeat with the remaining batter. Please do not fry the batter too much at a time, the hot oil will boil over. Also, make sure to use large enough pot, because as soon as the batter gets into the hot oil, the bubbles extend the size. Big time. Be careful.
Egg and the tempura flakes can be 5 to 7 days made ahead.
Let's make the beef udon!
Combine the beef, soy sauce, sugar, mirin and sake in a bowl. Heat a pan or medium size pot over medium heat then add oil and sliced onions. Sauté the onion until translucent, about 2 to 3 minutes.
Add beef mixture and cook the beef until beef is about half way done, about 2 to 3 minutes. Pour dashi and let it simmer for 4 to 6 minutes or until beef is fully cooked and onion is soften. Remove from heat and set aside.
Cook the udon noodles by following the directions of the package you are using. Rinse the noodles under running cold water then hot water for last 10 seconds. Also boil 4 cups water for the soup.
In a serving bowl, place tsuyu- Japanes soup base and 2 cups boiling water. Depending on the brand or type of tsuyu, the ratio can be different so please check and follow the direction of the tsuyu bottle you are suing. Mine was 1 part tsuyu to 6 parts water.
Add the udon noodles, then top with the sweet beef, the tempura flakes, green onions and lastly the egg. Just simply crack the egg right top of the udon. Sprinkle some shichimi if you like to and enjoy!