Description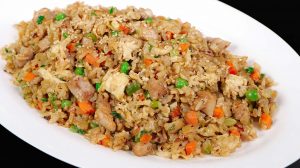 ---
2 Tbsp

light soy sauce

1 Tbsp

oyster sauce

1 Tbsp

butter

2

eggs, beaten, seasoned with salt


2 Tbsp

cooking oil

2

cloves garlic, chopped (approximately

1 1/2 tsp

)

1 1/2 tsp

chopped ginger

1/2 cup

small diced onion (approximately

1/2

of medium size onion)

1

boneless skinless chicken thighs (approximately

4

to

5

oz)

1/4 cup

carrot, small diced

2 cups

cold jasmine rice, or brown jasmine rice, recommended a day old

1/4 cup

frozen peas, optional

4

green onions, chopped
sesame seeds for garnish
salt and pepper
---
Instructions
Prepare vegetables and mix soy sauce and oyster sauce in a small mixing bowl.

Heat a wok over high heat; add butter and let it melt. Pour beaten eggs and scramble. While they are still soft, remove from wok and set aside.

Into same wok, add oil and swirl to coat. Add garlic, ginger and onion, stir fry for 30 second or until onion's transparent.
Add chicken and season with small pinch of salt and pepper. Cook about 1 minute or chicken is 3/4 way cooked, then stir in carrot and cook for a minute.

Add rice and pour sauce mixture. Keep stir and tossing until every grains of rice are evenly coated with sauce, about 2 to 3 minutes.

Stir in frozen peas, green onions and scrambled egg. Stir and cook everything about 30 seconds to 1 minute and remove from heat.

Transfer to a serving plate and garnish with sesame seeds. Enjoy!