Description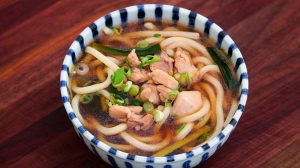 ---
2 cups

dashi broth

1 Tbsp

soy sauce

1 Tbsp

mirin

1/2 Tbsp

sugar

1 Tbsp

sake

1/2

of small leek, cut in halves lengthwise then cut into

2

inches long pieces.

1

boneless, skinless chicken thigh, cut into bite size

1

serving portion of fresh frozen udon or dry udon noodles

1/2

green onion, chopped
---
Instructions
In a sauce pan, combine dashi broth, soy sauce, mirin and sugar. Bring it to boil and let it boil for 2 to 3 minutes.
Now, add sake, leek and chicken thigh. Stir to cook evenly, bring the soup back to boil then cook 3 to 4 minutes or until the chicken is fully cooked and the leek is nice and tender.
Cook udon noodles by following the sections of the package you are using. If you're using fresh frozen udon like me, start cook it when chicken is almost done. If you're using dried one that takes a few minutes, then start cook the noodles when you start cooking the chicken soup part.
Place cooked udon in a serving bowl and pour the chicken soup. Sprinkle chopped green onion and serve immediately! Enjoy!