Description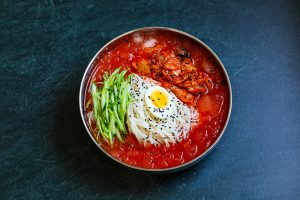 ---
Scale
Ingredients
1 cup

Korean stock, dashi stock, chicken stock or veggie stock

1/2 cup

kimchi juice

1 tsp

salt, adjust to your kimchi's saltiness

3 tsp

sugar

3 tsp

vinegar, adjust to your kimchi's sourness

1/2 cup

kimchi, cut into bite size as needed

1 tsp

gochujang

1 tsp

sugar

1 tsp

sesame oil

1 tsp

sesame seeds

3 oz

cucumber, julienne

1

egg

1

serving size dried somyun or angel hair pasta
black sesame seeds
---
Instructions
Combine the Korean stock, kimchi juice, salt, sugar and vinegar and mix well. Adjust the salt, sugar and vinegar amount to your kimchi's saltiness and sourness. To your taste, you can place in a freezer (in that case, place the stock mixture in a freezer safe airtight container) for a couple hours for a slush like soup. If you can't wait for a couple hours (like myself), just season the soup base a bit more strongly now so we can add some ice later.
Combine kimchi, gochujang, sugar, sesame oil and sesame seeds in a mixing bowl and set aside. You could pass this seasoning the kimchi part, if your kimchi is already very salty and pungent.
Bring a pot of water to boil and cook egg about 7 to 8 minutes or until it's hard boiled. Remove the egg from the boiling water, let it cool then peel and set aside.
In the same boiling water, add somyun or angel hair pasta. Cooking by following the direction of the package you are using. I like to add ice cubes while boiling, it make the noodles more elastic and chewier texture which is perfect for cold noodles.
Drain the noodles and rinse under cold water until it's completely cooled then drain.
Roll the noodles nicely as a large ball and place on a serving bowl. Pour the ice cold stock mixture around the noodles. Add some ice in the soup, if your soup didn't get slush. You can also shave ice in a vita mix like I did!
Top the noodles with kimchi mixture, cucumber and halved hard boiled egg and finally, garnish with black sesame seeds. (yes, you can use regular sesame seeds, I used it for only color purpose! lol ) Serve immediately and enjoy!
---