Description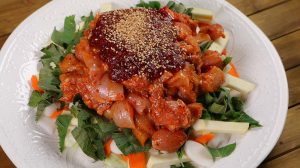 ---
For the Sauce
1 1/2 Tbsp

gochujang, Korean red pepper paste

1 Tbsp

sesame oil

1 Tbsp

honey

2 Tbsp

gochugaru, Korean red flakes

2 Tbsp

mirin (Seasoned rice wine), regular rice wine or dry white wine

1 Tbsp

soy sauce

1/2 tsp

grated ginger

7

to

9

cloves garlic, grated

1

lb. boneless skinless chicken thighs, cut into

one

bite size

1

lb. boneless skinless chicken breast, cut into

one

bite size

6

to

8

oz green cabbage, cut into one chunks (approximately

1 1/2 cup

)

1

medium onion, cut into chunks

1

medium sweet potato, cut into

2

inch long 1/.2 inch thick strips

1

smedium carrot, cut in halves, sliced

3

green onions sliced
Handfull tteok, Korean rice cake, optional

1

bunch wild sesame leaves, cut into long thin strips (You can substitute to basil)

2 Tbsp

cooking oil
Extra sesame oil and seeds for serving
For fried rice
2 cups

cold rice

1/4 cup

chopped green onion (approximately

2

to

4

green onions)

1/2 cup

chopped kimchi

2

Tbs tobiko, flying fish row, optional

1/4 cup

Korean seasoned dried seaweed or furikake

1 Tbsp

sesame oil

3

eggs, beaten, optional
---
Instructions
Combine all sauce ingredients in a small mixing bowl and mix well. This sauce will last 10 to 15 days in a refrigerator, flavors will getting better and better!

Pour 1/3 of sauce into chicken and mix it well. Cover with plastic wrap and let it marinate at least 1 hour to overnight.

Arrange vegetables first on a large serving plate, then add marinated chicken on very top and pour remaining sauce. Sprinkle sesame seeds as much as you want right before serving or cooking.

Usually Dakgalbi is served and cooked on a table. To do so, you will need portable gas stove and large skillet. (I use my paella pan) You can also cook ahead in the kitchen then serve too. Either way you can follow my delicious cooking directions.
Heat a large skillet (I recommend 14 inch) over high heat; add cooking oil. Carefully add vegetables, chicken and sauce (Everything!) into hot skillet. Cook 15 to 20 minutes or until chicken cooked through and vegetables are soft. Stir occasionally.
Serve with lettuce, ssamjang, kimchi and/or any Korean side dishes you'd like to have together!

When Dakgalbi has almost gone, but have a little bits and pieces left on skillet, don't wash it out yet! Put all ingredients for fried rice ingredients in a bowl and heat skillet over medium high. Add fried rice ingredients to skillet and mix with all the leftover sauce!

Put fried rice in middle of skillet, like a small mountain, and pour beaten eggs to ring. Scramble eggs slightly so it will evenly cook. When eggs are cooked, it's time to dig in again! It will be the best fried rice you've ever!