Description
[url href="http://seonkyounglongest.com/wp-content/uploads/2015/11/IMG_4535-copy-600×400.png"]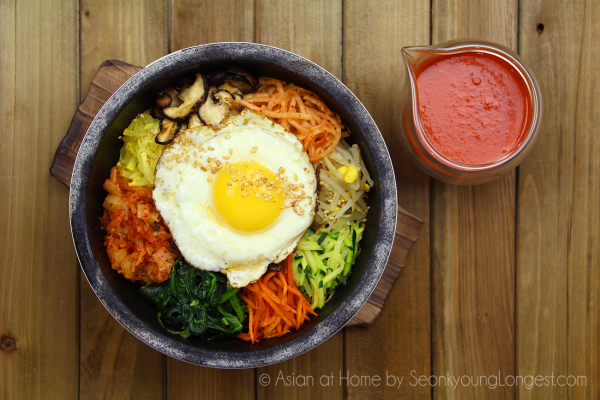 [/url]
---
For Gochujang Sauce
1

Clove garlic

2 oz

. Fuji apple, roughly chopped (Approximately

3

Tbs.)

2 oz

. Onion, roughly chopped (Approximately

3

Tbs.)

1/2

Tbs. Soy sauce

2

Tbs. Gochujang

1

Tbs. Lemon juice

1

Tbs. Mirin(Seasoned rice wine)

1

Tbs. Sugar

1

Tbs. Sesame oil
Pinch of black pepper
For Marinate Beef (Or any protein you are using)
1

lb. beef (New York strips, Sirloin, chuck or rib-eye), cut into one bite size

2

Tbs. Soy sauce

1

Tbs. Mirin, seasoned rice wine

1

Tbs. Sesame oil

2

Tbs. Sugar
Black pepper
For the Vegetables
Salt

1

Zucchini, julienned

1

Yellow squash, julienned

3

Medium size carrots, julienned

1

(5-ounce) package shiitake mushrooms, sliced
[url href="http://seonkyounglongest.com/wp-content/uploads/2015/11/Screen-Shot-2015-11-17-at-10.27.00-AM.png"][/url][url href="http://seonkyounglongest.com/wp-content/uploads/2015/11/Screen-Shot-2015-11-17-at-10.27.03-AM.png"][/url][url href="http://seonkyounglongest.com/wp-content/uploads/2015/11/Screen-Shot-2015-11-17-at-10.27.07-AM.png"][/url][url href="http://seonkyounglongest.com/wp-content/uploads/2015/11/Screen-Shot-2015-11-17-at-10.27.10-AM.png"][/url]
Optional Vegetalbes
To Assemble
4 cups

warm cooked rice (Short grain white rice or brown rice)
How to Make RiceCLICK HERE

4

eggs
Toasted sesame seeds
---
Instructions
Let's make Gochujang sauce first.
Combine all ingredients for guchujang sauce in a blender, food processor or hand blender; pulse until it becomes smooth texture sauce. Set aside until serving in a fridge.
[url href="http://seonkyounglongest.com/wp-content/uploads/2015/11/Screen-Shot-2015-11-17-at-10.26.32-AM.png"][/url][url href="http://seonkyounglongest.com/wp-content/uploads/2015/11/Screen-Shot-2015-11-17-at-10.26.38-AM.png"][/url]
Now, let's marinate beef. (You can use pork, chicken or tofu as well)
Combine all ingredients for marinate beef in a medium mixing bowl. Toss everything together and Let stand 20 minutes. Meanwhile preparing vegetables.
[url href="http://seonkyounglongest.com/wp-content/uploads/2015/11/Screen-Shot-2015-11-17-at-10.26.45-AM.png"][/url][url href="http://seonkyounglongest.com/wp-content/uploads/2015/11/Screen-Shot-2015-11-17-at-10.26.53-AM.png"][/url]
Heat a large skillet over medium-high heat. We're going to sauté vegetables from light color to dark color so the light color vegetables wouldn't stain.
Add 1 teaspoon oil to pan; swirl to coat. Add julienned yellow squash and a pinch of salt to pan; sauté 2 to 3 minutes. Remove squash from pan, keep warm. Add 1 teaspoon oil to pan; swirl to coat. Add julienned zucchini and a pinch of salt to pan; sauté 2 to 3 minutes. Remove zucchini from pan, keep warm. Add 1 teaspoon oil to pan; swirl to coat. Add carrots and a pinch of salt to pan; sauté 2 to 3 minutes. Remove carrot from pan, keep warm. Add 1 teaspoon oil; swirl to coat. Add mushrooms and a pinch of salt to pan; sauté 4 to 5 minutes. Remove from pan, keep warm.
[url href="http://seonkyounglongest.com/wp-content/uploads/2015/11/Screen-Shot-2015-11-17-at-10.27.15-AM.png"][/url][url href="http://seonkyounglongest.com/wp-content/uploads/2015/11/Screen-Shot-2015-11-17-at-10.27.18-AM.png"][/url]
After cook all vegetables, finally time to cook beef. In same skillet, add marinated beef; sauté 7 to 8 minutes or until cooked through, no more juices and slightly browned edges. Remove from pan, keep warm.
[url href="http://seonkyounglongest.com/wp-content/uploads/2015/11/Screen-Shot-2015-11-17-at-10.27.32-AM.png"][/url][url href="http://seonkyounglongest.com/wp-content/uploads/2015/11/Screen-Shot-2015-11-17-at-10.27.43-AM.png"][/url]
Brush each stone pots with 1 teaspoon of sesame oil evenly. Place 1 cup of rice on bottom of each stone pots. Arrange vegetables evenly around edge and place beef right in middle. Heat stone pot bibimbap on a stove over high heat until you hear sizzling sound.
[url href="http://seonkyounglongest.com/wp-content/uploads/2015/11/Screen-Shot-2015-11-17-at-10.28.10-AM.png"][/url][url href="http://seonkyounglongest.com/wp-content/uploads/2015/11/Screen-Shot-2015-11-17-at-10.28.14-AM.png"][/url][url href="http://seonkyounglongest.com/wp-content/uploads/2015/11/Screen-Shot-2015-11-17-at-10.28.19-AM.png"][/url][url href="http://seonkyounglongest.com/wp-content/uploads/2015/11/Screen-Shot-2015-11-17-at-10.28.29-AM.png"][/url][url href="http://seonkyounglongest.com/wp-content/uploads/2015/11/Screen-Shot-2015-11-17-at-10.28.32-AM.png"][/url][url href="http://seonkyounglongest.com/wp-content/uploads/2015/11/Screen-Shot-2015-11-17-at-10.28.40-AM.png"][/url]
Meanwhile, Heat a large nonstick skillet over medium-low heat. Add 1 Tablespoon toasted sesame oil. Crack eggs into pan; Cook until whites are set to serve as sunny-side-up or until your desired doneness. Remove from heat.
[url href="http://seonkyounglongest.com/wp-content/uploads/2015/11/Screen-Shot-2015-11-17-at-10.28.43-AM.png"][/url][url href="http://seonkyounglongest.com/wp-content/uploads/2015/11/Screen-Shot-2015-11-17-at-10.28.52-AM.png"][/url]
Remove stone pot bibimbap from heat and top with 1 egg and 1 teaspoon toasted sesame oil each stone pot. Serve with gochujang sauce.
[url href="http://seonkyounglongest.com/wp-content/uploads/2015/11/Screen-Shot-2015-11-17-at-10.28.46-AM.png"][/url]
Eat by adding as much sauce as you or guests desire and mixing everything together.
[url href="http://seonkyounglongest.com/wp-content/uploads/2015/11/Screen-Shot-2015-11-17-at-10.29.02-AM.png"][/url][url href="http://seonkyounglongest.com/wp-content/uploads/2015/11/Screen-Shot-2015-11-17-at-10.29.04-AM.png"][/url][url href="http://seonkyounglongest.com/wp-content/uploads/2015/11/Screen-Shot-2015-11-17-at-10.29.12-AM.png"][/url][url href="http://seonkyounglongest.com/wp-content/uploads/2015/11/Screen-Shot-2015-11-17-at-10.29.17-AM.png"][/url]
Notes
You can use any seasonal vegetables, as well as raw vegetables(Cabbage, cucumber, kale and etc.). Play and mix and match vegetables for your taste!
You can make this same recipe for regular bibimbap. Instead of using stone pot, using shallow bowls and skip the heating process and serve right away.
Non Spicy Sauce
3 Tablespoons soy sauce
1 Tablespoon rice vinegar
1 teaspoon toasted sesame oil and seeds
2 Tablespoons chopped green onion
1 small garlic clove, finely chopped
Directions
Combine all ingredients and mix well.