Description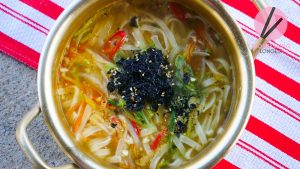 ---
---
Instructions
Bring broth to boil. It will take a few minutes, so meanwhile let's prep our vegetables!
Juliene zucchini and carrot. Slice onion green onion and red chili. Finely chop garlic.
By now, soup should be boiling, so go ahead and add zucchini, carrot and onion then
bring it back to boil.
Shake off excess flour/cornstarch form noodles! So that way, soup won't get too thicken. Add into boiling soup and keep stir so noodles won't stick to each other. Cook noodles by following package you are using or 3 to 5 minutes… Until it's fully cooked and soft as you desire!
Season with light soy sauce, add garlic, green onion and red chili.
Add some black pepper to your taste, sprinkle with some sesame seeds and finish with crushed gim (Korean roasted & seasoned seaweed).
---
Notes
If you are using dried noodles, cook the noodles about half way before the vegetables.
To Make Noodles from Scratch:
Combine 1 cup of all purpose flour, 1 Tbsp cornstarch, 1 Tbsp roasted bean powder (optional) and 1/4 cup warm water. Mix it until int becomes a smooth dough then place in a ziplock bag and let it rest in a refrigerator for 20 minutes to overnight. When dough is ready, dust work surface with flour and roll dough out into 1/8-inch thick. Dust enough flour to dough and roll. Slice it into 1/4-inch wide and unroll immediately.