Description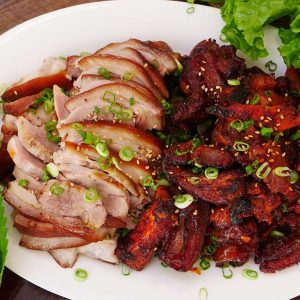 ---
For Preparing
5

lb pic trotters

1 Tbsp

instant coffee or espresso powder
For the Broth
5 cups

cold water

3 cups

chicken stock

1 cup

soju, sherry, sake white wine

3/4 cup

soy sauce, possibly Korean brand

1/2 cup

Korean rice syrup, honey or

1/4 cup

brown corn syrup

1/4 cup

sugar

1

large onion, don't peel, cut in half

1

large apple, cut in half
Thumb size ginger, cut in half

1

bulb garlic, cut in half

4

to

5

green onions, cutting half
For the Dried Spices
For the Spicy Sauce
4

to

5

cloves garlic chopped (approximately

1 Tbsp

)

1 cup

of the Pork Broth

1/4 cup

water

1 Tbsp

Korean rice syrup, honey or

1/2 Tbsp

brown corn syrup
Garnish & Assembles
sesame seeds
chopped green onions
green lettuce
---
Instructions
Soak pig's trotter in cold water at least 4 hours to overnight. Shave the hair if necessary with a new sharp razor or beauty razor.
Bring 10 cups of water to boil (doesn't need to be exact, just enough to cover the pig's trotter). Add instant coffee and carefully drop the pig's trotter.
Bring it back to boil and let it keep boil for 10 minutes. Rinse under cold water and discard the water. It's full of blood and scums, you don't want to eat that.
Into the clean pot (either wash the previous pot or a new pot), place all ingredients for the broth. Place all dried spices into a tea/stock bag and tie them tightly. Add into the pot. Give it a good mix to all the sugar and rice syrup to dissolve into liquid.
Now, place the clean pig's trotter into the pot and bring it to boil over high heat with no cover. Let it keep hard boil for 30 minutes, then cover with a lid, reduce to heat to medium and let it simmer for 1 hour to 2 hours. It's depending on the size. If you're using whole pig's trotter that is 5 lb for 1 piece, then simmer 2 hours. If you are using the ones like mine in the picture, cut up into 2 to 2 1/2 lb pices, simmer only 1 hour.
Check them occasionally and give it a stir here and there. You can also do this in a instant pot if you wish- Hight Pressure for 20 to 40 minutes.
Meanwhile, let's make the spicy sauce!
In a skillet, combine al the ingredients for the spicy sauce; bring it to boil over hight heat then reduce heat to low and simmer for 10 minutes. Set a side.
Now, add 1/4 cup of water if the broth is too thick and your sauce is reduce down too fast. Or/and add 1 Tbsp Korean rice syrup to your taste and more glossy looking Jokbal!
When the pork is done cooking, take out from the pot and eat it cool for 15 to 30 minutes on a cutting board before you handle it.
Cut as big chunk of meat as possible you can cut from the bone. Discard too dark part / dirty looking part of the meat. Slice thinly and place half amount of the meat on a serving plate. Another half, goes into the spicy sauce!
Toss the meat and small part of the bones in the spicy sauce and spread evenly on a aluminum foil lined baking sheet. High broil 3 to 4 minutes each side and serve right next to the classic jokbal.
Sprinkle with sesame seeds and chopped green onion for garnish. Serve with green lettuce, salted shrimp sauce and/or Makguksu! Enjoy~!
Prep Time:

4 hours

Cook Time:

3 hours