Description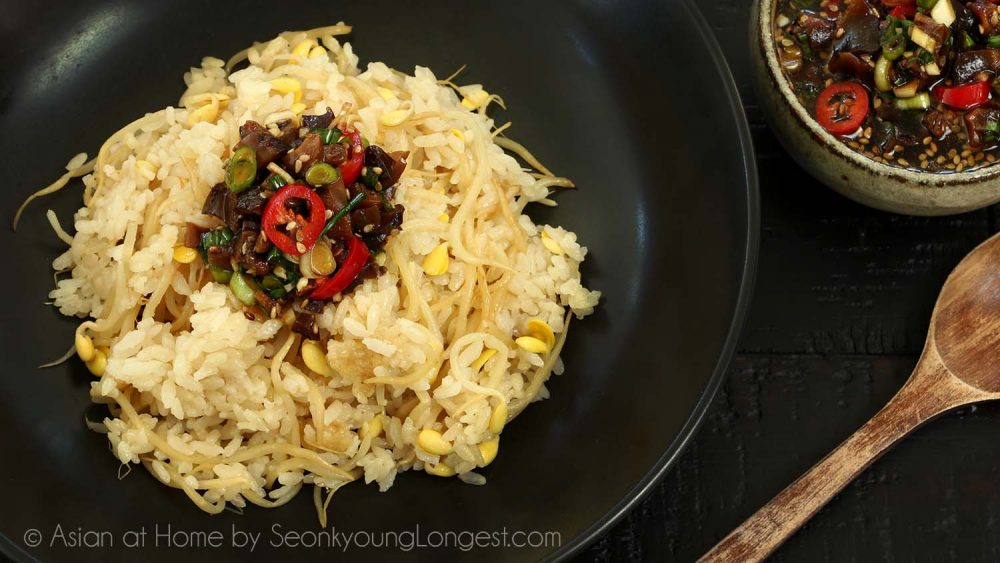 ---
2 cups

water

2 cups

medium or short grain rice

10 oz

soybean sprouts, washed, removed brown bits and drained

1/2 cup

soy sauce

1/2 cup

mirin

1/2 cup

water

3

garlic cloves, finely chopped

5

green onions, chopped

2

red chili, finely chopped (you can substitute to

1

Tbs gochugaru or omit)

1

Tbs sesame oil

1

Tbs sesame seeds
---
Instructions
In a sauce pan, add dried shiitake and water; bring it to boil and reduce heat to medium, simmer for 5 minutes. Let it cool completely then take mushrooms out and squeeze all of moister from mushrooms. Pour broth into a measuring cup through a strainer. Check how much broth you have, and add cold water to make 2 cups. Set aside.

In a thick bottom pot, add rice; wet rice with enough cold water and drain. Rubbing rice with your hand and you will see water turns into white milky color. Rinse off milky water and drain. Repeat this process 4 to 5 times or until it doesn't cloudy or milky anymore. At last rinse, drain water as much as possible.

Place clean soybean sprouts right on top of rice, completely cover rice. Pour measured mushroom broth. Cover and bring it to boil over high heat, reduce heat to medium low, simmer for 20 minutes for short grain rice(sushi rice) and 15 minutes for medium grain rice. You can also cook this recipe in a rice cooker with a same setting as cooking regular white rice. *Do not open lid to check if it's boil, just carefully listen the sound of boiling.

Remove from heat and let it rest for 10 minutes. Don't open lid right now, so rice will observe steam and finish cooking.
Meanwhile, let's make sauce to serve with. Chop shiitake mushrooms that we made broth; add into a sauce pan. Pour soy sauce, mirin and water. Stir and bring it to boil; reduce heat to medium and simmer for 5 minutes. When they are done cooking, add garlic, green onion, chili, sesame oil and sesame seeds.

Mix rice and soybean sprouts bottom to top with a spoon. Serve with sauce on side, so yourself and guest can control how much sauce add into soybean sports rice. Mix well with a desire amount of sauce with soybean sprouts rice and enjoy!

Prep Time:

10 mins

Cook Time:

35 mins